Oil and diamonds drive Angola's economy, and both commodities are experiencing high prices, resulting in GDP growth at exceptional levels – some 20 per cent in 2007.  And this translates directly into demand for hotels.  Luanda is experiencing occupancies above 90 per cent year round, with bookings required weeks in advance – and even paying in advance won't necessarily guarantee you a room!
Tourism figures from the Angola authorities are difficult to reconcile with this surge in demand, reporting a decrease in 2006 – but I believe this is due to a change in counting methodology, excluding those coming in for short-term employment from the figures.  More likely there is an increase of at least 10 per cent in arrivals year on year, which is the Ministry of Hotels and Tourism's forecast for the next 5 years, an estimate more than supported by the very high occupancies experienced by hotels in Luanda and elsewhere, and the high load factors of the incoming airlines.
International investment in Angola is growing, mainly for the reconstruction of the country's infrastructure and in industry. The main investors are the European Union (EU) and the EU countries individually (mainly Portugal), as well as the USA, China and South Africa.
Over 80 per cent of all arrivals to Angola originate from overseas, while 16 per cent originate from within Africa:
Angola

Region of Origin, 2005

 
Arrivals
 
Europe
110,025
52.4%
Africa
45,100
21.5%
Americas
36,140
17.2%
Asia
16,748
8.0%
Middle East
1,243
0.6%
Australia
700
0.3%
Total
209,956
100.0%
Source: MHT
Almost 70 per cent of all arrivals originate from seven countries (2005 data not available):
Angola

Country of Origin, 2006

Portugal
21%
Brazil
9%
UK
9%
South Africa
8%
China
8%
France
8%
USA
6%
Total
69%
Source: MHT
The majority of visitors to Angola are entering for business and employment, the latter largely in the oil and gas industry:
Angola

Reason for Entry, 2005

Employment
69%
Leisure and VFR*
15%
Business
13%
Transit
3%
Total
100%
Source: MHT

* - Visiting friends and relatives
Angola has considerable leisure tourism potential, but this is unlikely to be exploited for some years, due to the image of the country, the lack of available air capacity and therefore the high airfares, the cost of hotel and hospitality services, the lack of road infrastructure outside of the main cities, and the proliferation of landmines.  Many of the leisure visitors are VFR, from the Diaspora in Portugal and Brazil.
The attractions of Angola, which in the future can be exploited for tourism, include:
·                                             Beaches

·                                             Sport fishing

·                                             Game parks

·                                             Adventure tourism

·                                             History and culture

·                                             Natural landscapes

·                                             Bird watching

·                                             Whale watching.
The hotels in Luanda accommodate only very small volumes of leisure travellers, and it is not expected that this market sector will grow in the short- to medium-term.
In response to the high demand, several new projects are underway in Luanda – Korea's Namkwang are building a 250-room InterContinental Hotel, Sivol a 300-room Hotel Sana (a Portuguese operator and investor), and MITC are the developers of a 64-room extended stay property, a product well suited to the type of demand there.
Outside of Luanda, expect more hotel development in Lobito, where a US$3 billion oil refinery is to be built, and in Soyo, where a US$5 billion LNG plant is under construction.  In Soyo, a 100-room hotel is to be built by local investor Dania Comercial, and is reportedly already almost fully taken up with demand from the LNG plant.  Benguela has tourism potential, with existing beach resorts attracting demand from Luanda at weekends.  Cabinda, the enclave within the territory of the Democratic Republic of Congo, is the centre of Angola's oil industry, and there are plans for massive investment in housing and hotels there.
Such tourism as has been developed is mostly in the south of the country (Namibe Province), with demand generated by the South African and Namibian markets, who drive into the country and visit the game parks and participate in adventure activities in the desert.  Road and air access from Luanda has improved recently.  The two existing hotels have insufficient capacity for expected growth in demand.
The Angolan authorities are keen to expand the tourism industry, in order to diversify the economy away from primary products, and to take advantage of the country's natural assets which, due to previous internal problems, have been virtually unexploited.  Investment in tourism will bring considerable benefits to the population in rural areas, who see little benefit from the oil industry.
The following data on the number of international arrivals in Angola have been provided by the Ministry of Hotels and Tourism (MHT):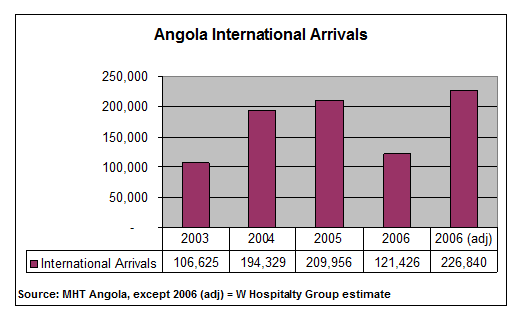 Whilst the reduction in arrivals in 2006 reported by the Ministry is said to be due to a reduction in major conferences compared to 2005, an analysis of the detailed data reveals that the actual reason appears to be a change in methodology of data capture – almost the entire reduction is due to a reduction in the number of migrant workers, a proportion of whom are clearly no longer counted as arrivals.  Applying 8 per cent growth to the 2005 figure (2005 was 8 per cent higher than 2004) results in a figure of approximately 227,000 visitors in 2006 (shown above as "2006 adj"), an increase which is conservative and more than supported by the very high occupancies experienced by hotels in Luanda and elsewhere, and the high load factors of the incoming airlines.
Trevor Ward
W Hospitality Group, Lagos
trevor.ward@w-hospitalitygroup.com