[vc_row][vc_column][vc_column_text]The chairs in the lobby, the front desk, the tables in the restaurant, and what goes on top of them (plates, glasses, silverware etc.), and in the bedroom of course there's the bed, and the sheets and towels, and so on. In the industry, we call it Furniture, Fixtures and Equipment (FF&E) and Operating Supplies and Equipment (OS&E). Simply put, FF&E is the big stuff, OS&E is the small stuff. [/vc_column_text][/vc_column][/vc_row]
Is Lagos the hottest hotel development market in Africa?  Look at the fundamentals: a city of some 15 million inhabitants, projected to be one of the world's 10 "mega cities" by 2025; the commercial centre of the continent's second-largest economy; the main aviation and shipping hub for West Africa, with a compound increase of 10 per cent in international arrivals in the last 10 years; and with occupancies in the city's hotels running at 85+ per cent year round.
Demand for Lagos' hotels is generated by three main sectors – telecommunications, banking, and, of course, oil and gas.  The latter is the driver of Nigeria's economy, with oil output of 2.5 million barrels per day (mbpd) due to double by 2010, and major expansion in gas production.
Yet no major new hotel has opened in Lagos since the Sheraton in 1985.  So demand outstrips supply, leading to high rates for rooms, and high profits for owners.  The leading hotels are charging US$300 to US$400 per night for a standard room, and despite some high operating costs, particularly energy and maintenance, that translates into high profits.  Large hotels in Lagos can produce operating profits of 55 per cent and more, compared with European hotels averaging in the order of 35 to 40 per cent.
There are several new hotels under construction, but many are delayed from their originally-projected opening date.  Why?  Most often due to a lack of funding.  Whilst in most markets hotel developers secure the total funding before starting work, it seems to be the norm that only part of the funding is secured, and developers underestimate the time it takes to raise the balance, leading to (expensive) delays in completion, most often measured in years.  Other expensive mistakes include not bringing the hotel operator on board from the outset, and very often the operator requires changes to the existing structure in order to meet brand standards.
What's the solution?  Clearly, it makes better sense to raise 100 per cent of the finance prior to starting work on site, or at least before starting the superstructure.  And it is never too early to bring the operator on board, to save expensive alterations later on, and even to save money through better design and procurement.
Lagos is, indeed, the hottest market in sub-Saharan Africa, and there are multiple opportunities for new investors to enter the market, from boutique hotels, catering to the discerning executive traveller, to large internationally-branded operations for the corporate and conferencing market.  Problems in the Niger Delta are forcing many companies to relocate their operations to Lagos, resulting in higher demand for hotel accommodation at all levels.  Proper planning of a project, avoiding the mistakes of others, could well mean that your new hotel will open before some of those currently under construction!
International Hotel Supply in Lagos
Hotel
Bedrooms
Room Rate

(Standard Room US$)

Affiliation
Sheraton Ikeja
332
477
Starwood
Sofitel Moorhouse
92
360
Accor
Eko Hotel and Suites
584
345
None - unbranded
Protea Victoria Island
58
314
Protea
Protea Kuramo Hotel
60
254
Protea
Protea Oakwood Park
62
308
Protea
Protea Maryland
50
296
Protea
TOTAL
1,238
 
 
New Hotels Under Construction
Hotel
Location
Bedrooms
Estimated

Completion Date

Novotel
Festac Town
400
2007
Sheraton Federal Palace
Victoria Island
140
2008
Golden Tulip
Apapa
75
2008
Radisson SAS
Victoria Island
170
2008
Four Points by Sheraton
Victoria Island
220
2008
Crowne Plaza
Ikeja (Airport)
220
2008
Southern Sun
Ikoyi
250
2009
Protea
Maryland
90
2009
Meridien
Ikoyi
370
2010
InterContinental
Victoria Island
360
2010
TOTAL
 
2.295
 
Trevor Ward
W Hospitality Group, Lagos
trevor.ward@w-hospitalitygroup.com
Each year we collect information from the major international and regional (African) hotels chain, to find out what they are doing in terms of signing new deals for the branding and management of new hotels in Africa.  At the beginning of 2013, the chains which contributed to our survey reported a total of 207 hotels in their development pipelines in Africa, with almost 40,000 rooms.  This includes only those binding deals which have been signed between a hotel chain and an owner, and is up almost one third on two years ago.  In a dynamic market, with an increasing number of players, new management and franchise opportunities appear every day, but these are the ones with full approval and which are more likely than not to proceed.
Table 1 shows the "Tale of Two Africas" – the distribution of the deals between North Africa and the rest of the continent.
TABLE 1

2013 Chain Hotel Development in Africa

Regional Summary

 
2013
2012*
2011*
 
Hotels
Rooms
Hotels
Rooms
Hotels
Rooms
North Africa
77
18,782
77
17,217
75
17,038
Sub-Saharan Africa
130
21,052
100
17,109
76
13,700
TOTAL
207
39,834
177
34,326
151
30,738
* In all the tables we have rebased previous years' data to include 2013 contributors only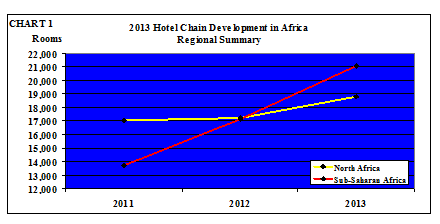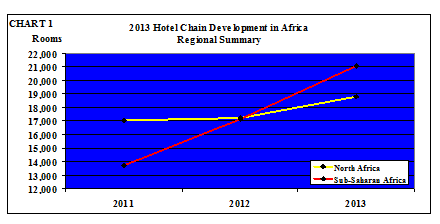 The pipeline in North Africa has experienced relatively little growth, for two reasons – several hotels in previous years' pipeline data opened in 2012 (Accor alone opened 8 hotels with 1,153 rooms in Algeria, Morocco and Tunisia), and the political turmoil in the region has had a negative effect on new investment and, therefore, new deals.
In North Africa, the development pipeline grew by 9 per cent in 2013.  In sub-Saharan Africa, however, the increase was a massive 23 per cent.  This compares to 4 per cent growth in Europe and 8.6 per cent growth in Asia Pacific, according to pipeline data produced by STR Global (although the growth in Africa is from a much lower base).
The top ten brands by number of hotels and rooms in their pipelines are shown in Table 2 and Chart 2.
TABLE 2

2013 Chain Hotel Development in Africa

Top 10 Brands by Number of Planned Hotels and Rooms

Rank by Hotels
Rank by Rooms
 
 
Change on 2012
Average Size
1=
Hilton
17
1
Hilton
5,400
68.4%
318
1=
Radisson Blu
17
2
Radisson Blu
4,191
11.5%
247
3
Novotel
12
3
Novotel
2,192
7.6%
183
4=
Ibis
11
4
Marriott
1,767
41.4%
196
4=
Golden Tulip
11
5
Park Inn
1,676
11.9%
168
6
Park Inn
10
6
Ibis
1,675
8.7%
152
7=
Marriott
9
7
Golden Tulip
1,608
88.7%
146
7=
Kempinski
6
8
Kempinski
1,481
8.0%
247
7=
easyHotel
6
9
Mövenpick
1,369
-37.3%
274
10
Mantis
6
10
InterContinental
1,296
-35.5%
324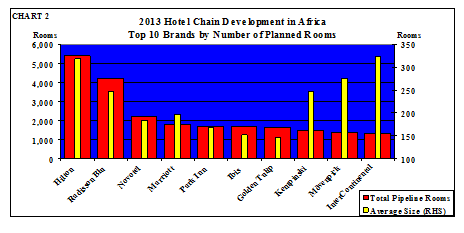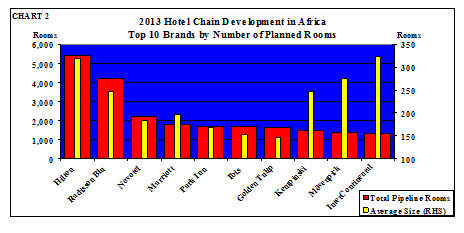 Table 2 and Chart 2 analyse the pipeline by brand.  The number one slot is occupied by the Hilton core brand on its own – the performance of Hilton Worldwide, and its pipeline in three brands (Hilton, Doubletree by Hilton and Hilton Garden Inn), is analysed in Table 4.
Two brands are first equal in terms of the number of hotels in the pipeline, but whilst this is an indication of how large the system footprint is set to grow, the number of rooms is a better
indication of future earnings, and Hilton outstrips Radisson Blu by almost 30 per cent on that measure, because of the larger average size of their planned hotels.
The above analysis is of brands – many of the hotel companies are multi-brand players, so it is relevant to look at it per group as well.  It is noticeable that the global chains are now entering the African market with more of their brands – Hyatt have signed their first Hyatt Place deal, Hilton are moving ahead with Hilton Garden Inn, and Louvre are bring Campanile and Première Classe to Africa.  This gives owners greater choice, whilst still receiving support from a major group.
Table 3 and Chart 3 show the pipelines by hotel chain.
TABLE 3

2013 Chain Hotel Development in Africa

Top 10 Chains by Number of Planned Hotels and Rooms

Rank by Hotels
Rank by Rooms
 
 
Change on 2012
Average Size
1
Accor
30
1
Hilton Worldwide
6,230
84%
271
2
Carlson Rezidor
28
2
Carlson Rezidor
5,947
11%
212
3
Hilton Worldwide
23
3
Accor
5,165
-14%
172
4
Marriott
22
4
Marriott
3,900
55%
177
5
Louvre
17
5
Starwood
2,514
17%
279
6
Starwood
9
6
IHG
2,413
-16%
302
7=
Best Western
8
7
Louvre
2,290
146%
135
7=
IHG
8
8
Kempinski
1,481
8%
247
7=
Lonrho
8
9
Mövenpick
1,369
-37%
274
10
Kempinski
6
10
Rotana
1,355
8%
271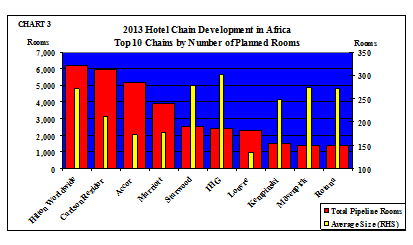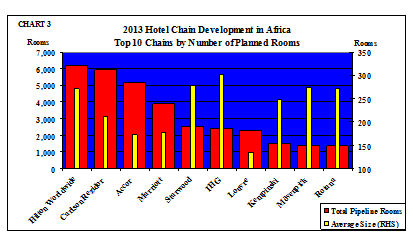 All the majors are there, dominated by Hilton Worldwide and Carlson Rezidor, both of which have invested heavily in establishing development offices in Africa.  Best Western enters the ranking with eight signed membership agreements and almost 800 rooms, of which all but one property is under construction.  Six new African Best Western hotels are due to open in 2013, taking the total to 14 hotels with over 1,500 rooms.
Where is all this activity taking place?  Of the total pipeline, 47 per cent is in the five countries of North Africa, and 53 per cent in the 49 countries of sub-Saharan Africa.  Table 4 shows the top ten countries.
All of the five North African countries feature in the top ten destinations for branded hotel developments, the majority of activity are located in Egypt and Morocco, where the tourism industries are most well-established.

TABLE 4

2013 Chain Hotel Development in Africa

Top 10 Countries by Number of Rooms

Hotels
Rooms
Average Size
1
Egypt
20
7,644
382
2
Nigeria
49
7,470
152
3
Morocco
30
5,178
173
4
Algeria
17
3,160
186
5
Kenya
11
1,469
134
6
Ghana
8
1,441
180
7
Tunisia
6
1,441
240
8
Libya
4
1,359
340
9
South Africa
8
1,320
165
10
Gabon
7
1,128
161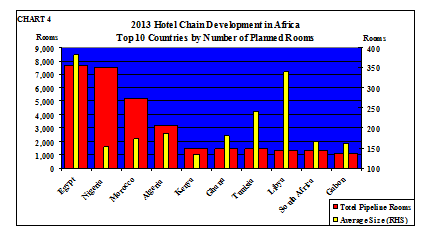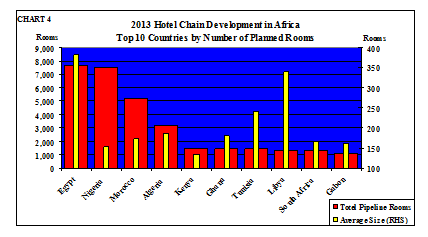 Nigeria, Africa's largest country by population, the power house of West Africa – and tipped to overtake South Africa this decade as the largest economy on the continent - has almost 7,500 rooms under contract, up 10 per cent on last year's figure, with at least two more deals signed since the beginning of 2013 (not included in the above data), and thousands more in the "nearly" category.
Note that hotels being planned or developed in North Africa are typically larger than those in sub-Saharan Africa, particularly in Egypt.  Nigeria may have the largest pipeline in sub-Saharan Africa, but the average size of hotel there is relatively small.  Conversely, however,
one of the largest hotels in West Africa, the InterContinental Lagos with 358 rooms, is due to open in 2013.
New to the Top Ten in 2013 are Kenya and Gabon.  Nairobi is the focus of attention in Kenya, with seven companies entering the market there – Best Western, Country Lodge, Accor (Novotel and Ibis), Carlson Rezidor (Radisson Blu and Park Inn), Dusit, easyHotel and Kempinski.  With almost 1,500 rooms between them, of which almost 700 are due to open in 2013, is an oversupply situation looming?
On average, the global hotel brands have less than 2 per cent of their total rooms in sub-Saharan Africa, and with rapid expansion of their existing and upcoming hotels in China, India and other developing and developed countries, this percentage could drop further.  But the rewards in Africa are high, and with economic growth rates in many countries of 7 per cent and above, it is regarded by many as the most profitable place to do business – just slower than "normal".
Many projects in sub-Saharan Africa are delayed from their original opening date, for a variety of reasons.  But we see that improving, as more sophisticated investors, including specialist funds, enter the market, capable of running a successful development project.  We have identified five hotel funds currently active in Africa, with others being established, seeking acquisition and new-build opportunities.  In addition, several international construction companies, from Europe, the Middle East and elsewhere, are eying the market, bringing construction finance with them.
Since we first started the hotel pipeline survey in 2009, we have seen the number of rooms increase from 30,000 rooms to 40,000 rooms, and in the intervening four years, the hotel chains have opened an estimated 20,000 rooms in Africa.
Africa is firmly on the agenda!
*****************
Notes on the sample:
We sent questionnaires to 42 international and regional hotel chains, of which 29 submitted data.  In addition, three international chains provided a zero-deal return, and two South-Africa based chains declined to participate this year (although they had participated in the past).  We polled only those international chains with an interest in being in Africa, or Africa-based chains with operations and/or deals outside their home country.
This report summarises the results of our analysis.  Detailed information on all the deals signed by the chains are provided only to the contributors.
Trevor Ward
W Hospitality Group, Lagos
trevor.ward@w-hospitalitygroup.com
Assessing an investment in any business means looking at supply and demand – who wants to buy the product or service, now and in the future, and who is playing in that market as suppliers of that product or service, today as well as tomorrow.
Everyone seemed to have an opinion about how Uber wouldn't work in Africa back in 2012. Four years down the line, the Uber bug has spread to 11 cities in Egypt, Kenya, Nigeria, Morocco and South Africa.
My mantra has always been "don't generalise about Africa", a continent of 54 sovereign states, each as different from one another as are the 50 states of the USA, and the c50 countries in Europe (the exact number  depends on how you count!).
For business and leisure travellers, serviced apartments hold a certain type of appeal, becausecompared to a "traditional" hotel they provide greater flexibility, more privacy, the freedom to serve yourself as and when required, and space to entertain, and they can work out to be greater value for money due to the absence of extensive facilities that the long-stay guest rarely uses.
The challenging global economic climate means that companies are looking for easier and more cost-effective ways to provide accommodation for relocating employees, as well as those on long-term assignments. As more work contractsare negotiated for the short-term, serviced apartments are an increasingly attractivecost-efficient option for employers to house their staff, as opposed to the former days of sourcing for, furnishingand servicing expatriate accommodation (apartments and houses) in Africa.
At the basic level, serviced apartments are self-catering furnished apartment units with electricity, Wi-Fi and cleaning provided. They do not usually have restaurants or bars within their complex, but may offer a pool and gym. Along the spectrum, the service offerings increase with more luxury apartments with additional services such as 24-hour concierge, swimming pools, gyms, spas, restaurants and bars.
The term "serviced apartments" includesaparthotels, also known as extended-stay hotels, as well as branded residences, where the apartments, which are the owner's permanent home, are managed by a hotel operator, often at the upper scale of quality. Aparthotelunits can vary from studio units – essentially a large hotel room with a kitchenette and dining table - to one, two and (occasionally) three-bedroomed apartments. The most popular of these arestudios and one-bedroom apartments, catering to the single business traveller.
Whilst serviced apartment complexes tend to be independent of any hotel chain, aparthotels and extended stay hotels are a sector of the lodging industry that the hotel chains have targeted for some time, especially in the USA.  The "combo" development, where the extended stay units are adjacent to a full-service hotel, brings advantages to all involved – the guest, the operator and the investor.  Guests can use the hotel facilities, whilst maintaining the privacy of staying in a separate location from a hotel, in a less-busy facility. According to Cycas CEO John Wagner, a pioneer of the extended-stay sector in Europe, quoted in the The Global Serviced Apartments Industry Report 2015/16 by The Apartment Service, dual-branded lodging offers have lower costs and are able to optimise the provision of services such as maintenance, housekeeping and security, where one team is required for both the hotel and serviced apartments, as compared to if the two were separately-located projects.
In terms of supply, the global provision of serviced apartments has grown from around 402,000 apartments in 6,722 locations in 2008 to 775,336 apartments in 9,961 locations in 2014, according to The Apartment Service. According to WATG's 2015 report Serviced Apartments – Checking in for the Long Term, 70 percent of the demand for serviced apartments is from corporate travellers. Relocation is the biggest force driving the demand for serviced apartments. Relocation agencies responsible for sorting out short and long-term housing are increasingly looking to serviced apartments to meet short-term housing requirements,, although some companies are reluctant to use unbranded serviced apartments because they have less confidence intheir security procedures.
In terms of demand, there has been an increase in demand for serviced apartments and extended-stay accommodation from leisure travellers, particularly families and groups of friends who are travelling together, as serviced apartments are seen as a better alternative to hotels, with far fewer restrictions.
Location is an important factor in the demand for serviced apartments. According to Jack DeBoer of WaterWalk, quoted in the WATG report, serviced apartments should be located close to class A office spaces, to allow for short commutes between accommodation and work spaces, given traffic conditions in many African cities.
Whilst the strong demand dynamics present positive investment indices, the serviced apartment segment of the hospitality industry is not without its challenges. As the sector straddles the residential and hotel markets, it can be difficult to classify the product, it being a hybrid between a hotel room and a rental apartment.Consumers are also not aware of the range of serviced apartment offerings. Whilst 72 percent of business travellers are aware of serviced apartment products, only 52 percent are aware of extended stay products, according to Hotel Analyst (November/December 2015).
The sector is relatively unproven when compared with mainstream real estate investment products, including full service hotels, and in this regard, some investors view it as more risky, which is really not the case. The existing serviced apartment supply mostly caters to the mid-market, but there are real opportunities for greater coverage of the market, to cater across the spectrum from basic to luxury service levels.The serviced apartments market is presently very fragmented, with an inconsistent quality and provision of guest facilities, and the lack of recognised brands – the vast majority of serviced apartments and other extended stay accommodation products are unbranded. More standardisation and clarity in the classification of the type of products being offered, and the branding and management of these products, will contribute to better understanding of what serviced apartments and extended stay lodging products can offer to investors and guests alike.
Some hotel chains are looking to bring their brands into Africa, such as Residence Inn looking to open in Kampala; MarriottExecutive Apartments in Addis Ababa (where they opened in late 2015, the first Marriott-branded hotel in sub-Saharan Africa), and with a project on the books in Abuja; Fraser Suites also planning an opening in Abuja;Accor's Adagio is seeking a presence;and Starwood have their firstElement extended-stay hotel opening in Dar es Salaam shortly.
Whilst Africa has the land area of the USA, China, and Western Europe combined, with space to spare, the continent is hugely underserved in the provision of international quality accommodation, both hotels and serviced apartments. The distance of most African markets from demand generators in Europe, Asia and North America means that those coming for business and for projects tend to stay for longer periods.
According to The Apartment Service, there has been a rise in the provision of serviced apartments in Africa, from 4,634 apartments in 76 locations in 2013 to about 8,802 units in 102 locations in 2015Yet this figure comprises only 1.1% of the total provision of serviced apartments globally. There is therefore a lot of scope for investors to active engage with the sector. Within Africa, markets with a strong demand include the primary cities in countries such as Nigeria, Ghana, Tanzania, Côte d'Ivoire, South Africa, Ethiopia and Kenya.
There is significant opportunity for those prepared to develop and operate serviced apartments and extended stay hotels, and for private equity to invest in a sector which can provide higher rewards.Serviced apartments, when compared to full service hotels, require less food and beverage provision, and therefore have lower investments requirements (less built space), provide greater efficiency – the space reserved for back of house supports can be converted to more keys for the serviced apartments - and due to their lower staffing requirements, an average of 0.2 employees per key compared to 1 or more employees per key for the average full-service business hotel, serviced apartments also have lower operating costs.
Serviced apartments typically experience higher occupancy rates, due to their long-stay nature, which result in higher returns. The sector also has higher returns on average than hotels, averaging about 21.2% IRR when compared to the 17.3% that hotels provide on average, according to WATG and The Apartment Service.
Yet, there remains a lack of clear information about the service level offerings, providing difficulties for investors to understand the asset class, thereby reducing the attractiveness of the sector to investors.The sector remains insular and can benefit from strategic communications to make investors aware of the potential it has, and to stimulate investment in the sector. The industry needs to become more sophisticated with the development of an asset class for serviced apartments, and developing a more institutionalised grade investment product. The serviced apartment industry is vastly under-developed in Africa, with significant opportunities for investors, the hotel chains and, of course, the guests.
Trevor Ward
W Hospitality Group, Lagos
trevor.ward@w-hospitalitygroup.com
As one of the smallest countries in Africa, both by size and population, it rarely features in any of those "African top 10" lists.  And for some reason, the IMF classifies it as a Middle Eastern country in its World Economic Outlook.  But the Republic of Djibouti is indeed in Africa, strategically located in the Horn of Africa, bordered by Eritrea, Ethiopia and Somalia.  It sits there at the southern end of the Red Sea where it joins the Gulf Aden, and just 35 kilometres from the coastline of Yemen.  That's the busiest waterway in the region, and one of the trouble spots, less affected these days by piracy, but the threat is still there, with one of the main problems these days being the conflict in Yemen.
So what Djibouti has done is massively expand its seaports, catering to various navies' vessels, and also the main entry point for goods heading to and from Ethiopia.  With no coastline of its own, Ethiopia is dependent on neighbouring countries for its access to the sea, mostly Djibouti (some supplies come through Somalia), from where a rail line runs to Addis Ababa.  As a result, the ports in Djibouti are busy, and massive investment means that they are highly efficient.
Other commercial activity in Djibouti includes the new free zone, new shopping malls, anew airport for the capitalas well as one at Ras Siyyan, a planned new resort in the north of the country, new seaports, all with the potential of improving the physical, economic and social landscape of the country.  And a project of extremely high importance is the revival of Air Djibouti, in partnership with a UK company, which will improve access to the country.  Destinations in the first phase of operation will include London and Dubai.
In the tourism sector, Djibouti is virtually unknown, with some adventurers attracted primarily by the country's natural attractions, which include Lake Assal, the lowest point in Africa with the second saltiest lake in the world, and the Day Forest national park.  Maritime pursuits include game fishing and scuba diving, with the Red Sea offering some of the best diving sites, including the opportunity to swim with (totally harmless!) whale sharks.
Currently, Djibouti – that's the country, not just the eponymous capital city - has just 1,000 rooms in 23 hotels, with high occupancies (80 per cent in 2014, 83 per cent Jan-Oct 2015) generated by business visitors, the army bases, NGOs, air crew and others.  There are only two branded hotels there, the Sheraton and the Kempinski, which together accommodate 75 per cent of international visitors (there is virtually no domestic demand); as yet there is nothing in the chains' pipelines in the country.  The Ayla Hotels Company from the UAE has a 100-room hotel under construction in the capital, and a Chinese company is planning a hotel there and a resort in Ras Siyyan.  Completion dates for these hotels are unknown – if they happen at all.
There is a huge need for new hotel investment in Djibouti.  The lack of quality accommodation is a constraint to the government, and to the international investors that they are working with, in the achievement of their objectives.  And at the end of the day, it is all about making money for the shareholders, and (essentially the same thing, because a country's people are shareholders in the country) it is about creating jobs.  To date, much of the investment has been in high capital investment projects, with a low labour requirement.  There is the so-called Djibouti Paradox, with high economic growth, and considerable development activity underway, but with unemployment estimated at over 50 per cent.
A recent study identified the need for several new hotels, located in different regions of the country, not only to cater to the existing demand, but also to create demand, from MICE activity (Meetings, Incentives, Conferences and Events), and from vacationers.  Whilst Djibouti City is the main location proposed for new hotel development, as that is where much (but not all) of the existing and new commercial activity is taking place, places such as Ras Siyyan, Lake Abbe, Lake Assal and Moucha Island are also identified, creating a circuit for leisure travellers.  In Ras Siyyan, the government is seeking to attract investors to create a new destination resort, with multiple lodging establishment, and improved facilities for the diving activity – the nearby Seven Brothers' Islands are well-known in the diving community.
Improvements in infrastructure will be required, and the government is tackling this in various ways, such as the revival of Air Djibouti, construction of new airports, including the one which will serve the proposed Ras Siyyan resort, and upgrading roads.  The investment regime in Djibouti is generally fairly liberal, the political and economic scenario is stable, and incentives to investors, especially those creating jobs, include tax holidays.  Companies can be wholly foreign owned, with no obstacles to repatriation of profits.
Djibouti is not on many people's radar right now, but watch this space – the government is undertaking a massive investment promotion campaign, which will include seeking investors for new hotels and resorts throughout the country.  That in turn will further improve the profile of the Republic of Djibouti.
Trevor Ward
W Hospitality Group, Lagos
trevor.ward@w-hospitalitygroup.com
From west to east
I was walking down a Nairobi street the other day, and a local chap falls into step with me and greets me in a most friendly way with "How do you like Africa?!".  I was so surprised, I just said "Fine" and hurried away.  I wasn't concerned for my safety, despite central Nairobi's reputation for street crime, I was just surprised at the question itself – how do I like Africa!
It set me thinking, about how the perception, or single story, of my friend, a Kenyan, who sees amzungu (white man in Swahili) and assumes I am a visitor from Europe or the USA.  I am often reminded of ChimamandaNgoziAdichie, the Nigerian author, who put it so well in her TED talk "The danger of the single story", pointing out that we need a variety of different, overlapping inputs for our outlook on life to be the reality that it is.  Little did my Kenyan friend know that I have lived in Nigeria for almost 13 years, and therefore not "fresh fish"!
But the other factor that surprised me was that he asked me about Africa, not Kenya or Nairobi, Africa!  If you met a foreigner on the streets of Berlin you wouldn't ask "how do you like Europe?", would you?
So even Africans generalise about Africa, apparently.  Why is that?  We have more countries in Africa than on any other continent, 54 nations since the creation of South Sudan in 2011, with immense diversity amongst them – not surprising when you consider that the land area of Africa is greater than that of Europe, North America, China and India combined.
Hotel investors do not decide to invest in Africa, they look at countries and cities, and at projects, assessing their attractiveness in market terms (demand for the product or service to be offered) and the risks (economic, political etc.).  You can't do that in a single assessment of "Africa"!
So what's going on currently in the various countries of Africa?
Well, a noticeable trend is that there has been a shift in focus away from the oil-producing nations of West Africa to the more diversified countries of East Africa (with apologies for generalising, but this time it is on a more local level!).  With one or two exceptions, West Africa has been battered by a "triple whammy" in the last two years, starting with the Ebola outbreak in mid-2014, then the collapse in the oil price shortly afterwards, and this year the China impact, the reduction in demand from China for iron ore and other primary products.  Each has had its own "ripple effect", the Ebola virus affecting travel and consumer demand throughout the region (and beyond), the oil price crash bringing devaluations in the currencies of Nigeria and other countries, and the China impact reducing the inflow of concessionary funds for new projects.
One of the exceptions in West Africa is Cote d'Ivoire, which has put its troubled past firmly behind it, and is seeing its much more diversified economy grow by almost 8% each year (IMF WEO October 2015), and inflation of 2% or lower.  The key there is the fact that its economy is much more diversified than its neighbours'.  GDP growth in Nigeria is down to just 2% in Q3, due mostly to the price of oil – we export virtually nothing else.  In Sierra Leone, the reduction in the world price of iron ore resulted in a shut-down of the entire industry, and the IMF are forecasting a GDP growth of negative 24% this year.
In this scenario, demand for hotels is down severely – from occupancies of over 80% in Lagos in the previous decade, the outlook for the end of 2015 is for an average for the year of about 50%, and this in the absence of any significant new supply.  We believe there will be an upturn, now that the federal government's ministers have been appointed (5½ months after the transfer of power from PDP to APC) – but it is difficult to know when.  The good news for hoteliers in Lagos is that no new supply is expected to enter the market for at least three years, so occupancies and average room rates should increase.  The lack of new supply is for the most part another consequence of the oil price crash, the subsequent currency devaluation, and the shortage of foreign exchange – it has become even more difficult to finance projects here, the uncertainty regarding the future is just too much at present.  Projects that were underway, such as the Marriott and the Meridien, are facing financial and other challenges.
Over in East Africa, particularly Ethiopia and Kenya, there is considerable activity in new hotel development.  The Marriott Executive Apartments in Addis Ababa opened in early October, and the Radisson Blu in Nairobi opened in mid-November.  Throughout Nairobi, there is considerable construction activity, Including in new satellite towns such as Two Rivers, which create demand for new hotels, such as the City Lodge.  Mövenpick have just announced a new deal in Nairobi, as have Starwood, for a Four Points by Sheraton at the airport.  Unlike in West Africa, we see these projects actually happening……The average occupancy in Nairobi and Addis Ababa is between 55% and 60%, not much higher than Lagos, but both cities have had high levels of new supply recently.
Looking at the IMF's data, we see that their forecasts for GDP growth reveal why the countries of East Africa are receiving more focus from investors.  The 2015 forecast for sub-Saharan Africa is 3.8%, down from 5% in 2014.  With the exception of Burundi, torn again with civil strife, all the countries in East Africa are expected to experience growth significantly above the regional average - Djibouti 6.5%, Ethiopia 8.7%, Kenya 6.5%, Rwanda 6.5%, Tanzania 6.9% and Uganda 5.2%, and almost all are experiencing greater growth than in 2014.
The reasons?  Because of a lack of minerals or other primary products, their economies are far more diversified than those in West Africa, and some in southern Africa (e.g. Zambia).  Further, as net fuel importers, they have benefited from lower prices.
About 5 years ago, the story was all about "Africa", and at that time the majority of the then-53 countries on the vast continent were experiencing rapid growth.  At 6.6% in 2010, sub-Saharan Africa had the highest growth in the world.  Today, times have changed, and it is imperative not to talk about Africa, but about countries and cities.
How do I like Africa?  Well, like the curate's egg, it is good, if not excellent, in parts!  As for the other parts, let's wait and see!
Trevor Ward
W Hospitality Group, Lagos
trevor.ward@w-hospitalitygroup.com
As evidenced by the record number of new hotel deals signed by the international and regional (African) hotel chains (see Ai May/June 2015 edition), there are likely to be more hotels built in Africa in the next five years than in any previous period.  There are several markets which are in need of new hotels, either because of a shortage in the face of demand growth or, quite often, the dire condition of the existing supply.  Hotels are a vital part of the commercial infrastructure of a city or destination, providing potential investors with places to stay and conduct their business.  Without modern hotel rooms up to international standards, all but the most intrepid investors might be tempted to do business elsewhere.
Our pipeline research looks only at the deals signed by the hotel chains, those new properties that will be managed by a hotel group and/or branded by them.  That means, therefore, that we do not, we cannot, capture all those hotels planned or under construction which will not be chain-managed or branded.  There are too many of them, there is no central register to consult, and oftentimes they are "mushroom hotels", popping up almost overnight, with no signboards on the construction site, and only those directly involved in the project knowing that it is a hotel they are building!
There's no universal, reliable estimate for the number of hotels in Africa (and I'm not going to digress into a discussion of the definition of a hotel!), nor is there any estimate of how many are under construction.  According to our research, of the c50,000 hotel rooms in the chains' pipelines, 63 per cent, or around 31,300 rooms, are actually under construction, in 36 countries.  That's fewer than 900 per country.
But of course they are not evenly spread, and in some markets, such as Luanda, the number of non-chain hotel rooms under construction exceeds the branded ones by a considerable margin.  The same in Nairobi, a market which has always had a large, unbranded supply of quality hotels, whilst in Kigali the branded supply dominates the development pipeline.
So a close examination of individual markets shows that, whilst the country average in the chains' pipelines is below 900 rooms currently being built, in some cities the addition of unbranded hotels, some of a considerable size (e.g. the former InterContinental hotel in Luanda, now unbranded, with almost 400 rooms) does appear to indicate that there could be oversupply on the horizon.
Demand for hotel rooms typically grows organically, driven in cities by economic growth, in single digits – 5 to 9 per cent annual growth would be considered very healthy, higher than the
trend growth of c4.5 per cent in international tourist arrivals annually.  On a one-off basis, the opening of a new convention centre can result in higher growth, this time supply-led.  But hotels
open all at once, not gradually to match demand growth – I call it the "pig-in-the-python" (picture the pig swallowed whole by the python, and slowly absorbed – yes, yuk!), so too a new hotel is slowly absorbed into the market.  But on opening, a hotel with 400 rooms can increase the supply in a market with, say, 2,500 existing rooms by 16 per cent, way above "normal" demand growth.
Now, I have been working in Africa for more than 25 years, and I have been told that oversupply is a threat time and time again during that period – but so far it has never materialised.  How come?
Well, it is a peculiarity of the African hotel market (much worse in some than in others) that signing a management agreement doesn't mean that the project will ever be realised.  Further, starting construction of a hotel doesn't mean it will be completed.
Looking at the chains' pipelines, between 2006 and 2011, no fewer than 60 deals with 13,500 rooms, over 25 per cent of the total, were signed, and really should have opened by now, but for many reasons (most often a lack of finance) they are still just paperwork or, in some cases, unfinished monuments to unfulfilled promise.  And again, many independent hotels are also standing unfinished - Abuja, for example, has many half-built hotels, mostly of 100 rooms or fewer, which never got past the concrete-pouring stage, and which have been abandoned, in some cases for several years.
Will they ever open?
That, for any investor, is a critical question.  The market for any product or service, including hotel rooms, is a function of supply and demand.  If there is too much supply, then each participant's market share goes down and – sometimes but not always – so do prices, both of which will reduce profitability and therefore viability of the project.
If all the hotel projects in the pipeline for Lagos, plus those currently being studied, were to go ahead, there will be oversupply.  There, I have said it, Lagos might be oversupplied.  As my home base, it is a market we study very carefully, trying to capture both the chain hotels as well as the larger, known independent projects.  Here's my analysis of the 4,291 rooms in the Lagos pipeline: 52 per cent, c2,200 rooms, are "under construction"; of those, 730 rooms have at one time had work undertaken on site, but are now stalled, the site closed, and in one case it is more than 4½ years since any work was carried out there; that leaves just 35 per cent of the pipeline actively being built; and of the total, we consider that 36 per cent will be built and open to the public, 41 per cent might happen, and 23 per cent are unlikely to see the light of day.  All of these are just opinions……..
But oversupply is a temporary phenomenon.  Organic growth in demand tends to sort it out, especially as new investors are deterred from the market.  Further, more supply can actually create demand, due to the increased spend on marketing the destination by the hotels themselves,
and as the addition of new rooms can mean that larger events, such as conventions, can now be accommodated.
And as I mentioned, oversupply doesn't have to mean lower prices.  Professional, internationally-experienced management who have seen it before will know that reducing prices is a hiding to nothing – in most markets doing so will not attract any more business, it will just result in guests resisting price rises when equilibrium returns.
Hotel investors need to carefully analyse any market, digging down into the detail of supply and demand, understanding the fundamentals of a dynamic industry.  The headline figures, those that I quoted above, are far from sufficient as the basis for an investment decision.  What type of hotel rooms are planned and under construction?  Is everyone building luxury hotels?  Then maybe there is the opportunity to develop at the midscale level?
In the hotel industry, it's the opportunity that lies in the detail, not the devil!
Trevor Ward
W Hospitality Group, Lagos
trevor.ward@w-hospitalitygroup.com