Tanzania is one of Africa's rising stars, with economic growth of a healthy 6 to 7 per cent, and a working democracy.  Tourism is one of the main drivers of the economy, and the country benefits from its "twin" product of safari and beaches.  Both, in my opinion, are the best in East Africa, with the fabulous Northern Circuit and world famous Serengeti, and the beaches and history of Zanzibar and the mainland.
Investors from the Middle East are waking up to Tanzania's great potential, with several headline investments in recent years.  One of the first major entrants to the market were the UAE's Albwardy Group, which is the owner of the Kilimanjaro Hotel in Dar es Salaam, and the Zamani in Zanzibar, both operated by Kempinski.  Dubai-based Kingdom Hotel Investments were the next, purchasing the Mövenpick Hotel in Dar es Salaam, and soon after entering into a US$20 million joint venture investment with Kuwait's IFA, also in Zanzibar.  Now Istithmar have arrived on the island, announcing a US$150 million resort there.
The Tanzanian government has given permission for further building in the Serengeti, with a planned expansion from the present 940 beds to 4,500.  Ten times the size of Kenya's Masai Mara Park, the government believes that this expansion is sustainable, and essential if the increased demand for safari tourism is to be met.  Albawardy already have an investment there, again with Kempinski as managers.
Tanzania also has a tremendous opportunity for conference tourism, with excellent facilities in the northern city of Arusha, the gateway to the Northern Circuit, and the location of an international airport with daily flights from the Netherlands, Ethiopia and Kenya.  The Arusha International Conference Centre has already hosted many international events, and will host the 8th Leon Sullivan Summit in June 2008.
Few countries can boast the combination of excellent conference facilities as well as the opportunity for pre- and post-conference trips to world class leisure destinations such as Zanzibar and the Serengeti.  The famous Mt Meru Hotel in Arusha is now in private hands, and a joint venture between local and South African investors is poised to undertake a complete renovation, along with an expansion of the number of rooms and the conference facilities, in the coming months.  Albawardy purchased the former Hotel
77 in the privatization process, for redevelopment as a mid-scale hotel, and other investors are known to be looking at this market.
Tanzania has experienced almost a 30 per cent increase in arrivals since 2000, to approximately 650,000 in 2006.  Around one quarter of these were to Zanzibar, which is aiming for an increase to 500,000 in 2013.  Constraints to future tourism growth are air access and hotel capacity.  The potential arrival of SAA, Emirates and Qatar airlines into the Zanzibar and Arusha markets will ease the lack of transport, which should in turn promote further investment in hotel accommodation.
TANZANIA TOURISM DATA
Tanzania

International Tourist Arrivals and Receipts

 
Arrivals
Receipts (US$m)
2000
501,669
739.1
2001
525,000
725.0
2002
575,000
730.0
2003
576,000
731.0
2004
582,807
746.0
2005
612,754
823.1
2006
644,124
862.0
Source: MNRT, Tourism Department
The following chart shows the indexed growth in visitor arrivals in Tanzania, using 2000 = 100.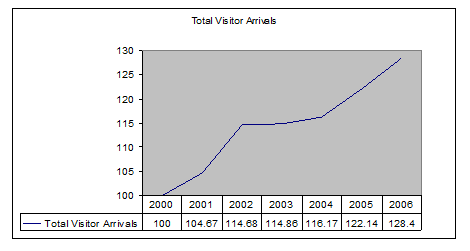 There is distinct seasonality in the arrival figures, as shown by the following chart:
The low months of April to June coincide with the rainy season, whilst the peak months of July, August, December and January coincide with the European and North American holiday seasons.
Of the total visitors in 2006, 56 per cent arrived by air, 41 per cent by road, and the remainder by rail and sea.  The figure for road arrivals includes visitors from the region, as well as long-haul travellers (from Europe and North America mainly) arriving by road from Kenya.
Eighty-one per cent of visitors to Tanzania are on vacation, and 11 per cent are on business, with 8 per cent "other".
Actual country/region of origin data for 2006 are as follows:
Tanzania

Region of Origin, 2006

 
Arrivals
%
East Africa
248,031
38.5%
Central Africa
11,100
1.7%
Southern Africa
30,650
4.8%
Other Africa
3,659
0.6%
North America
68,877
10.7%
Other Americas
2,401
0.4%
Northern Europe
94,724
14.7%
Southern Europe
64,320
10.0%
Western Europe
60,663
9.4%
Other Europe
9,341
1.5%
Middle East
6,815
1.1%
East Asia/Pacific
28,222
4.4%
South Asia
15,321
2.4%
Total
644,124
100.0%
Source: GTB
The top five generating countries in Africa were Kenya, South Africa, Malawi, Rwanda and Burundi.  The top five generating countries in Europe were the United Kingdom, Italy, France, Germany and Spain.  The USA and Canada are important sources of visitors, with Japan, China and Australia important sources in Asia/Pacific.
It is estimated that at least 75 per cent of tourists (holidaymakers) to Tanzania visit the national parks in the northern circuit, with Arusha at its centre, and therefore the data on park entrances are of relevance.
Trevor Ward
W Hospitality Group, Lagos
trevor.ward@w-hospitalitygroup.com