Each year we collect information from the major international and regional (African) hotels chain, to find out what they are doing in terms of signing new deals for the branding and management of new hotels in Africa.  At the beginning of 2013, the chains which contributed to our survey reported a total of 207 hotels in their development pipelines in Africa, with almost 40,000 rooms.  This includes only those binding deals which have been signed between a hotel chain and an owner, and is up almost one third on two years ago.  In a dynamic market, with an increasing number of players, new management and franchise opportunities appear every day, but these are the ones with full approval and which are more likely than not to proceed.
Table 1 shows the "Tale of Two Africas" – the distribution of the deals between North Africa and the rest of the continent.
TABLE 1

2013 Chain Hotel Development in Africa

Regional Summary

 
2013
2012*
2011*
 
Hotels
Rooms
Hotels
Rooms
Hotels
Rooms
North Africa
77
18,782
77
17,217
75
17,038
Sub-Saharan Africa
130
21,052
100
17,109
76
13,700
TOTAL
207
39,834
177
34,326
151
30,738
* In all the tables we have rebased previous years' data to include 2013 contributors only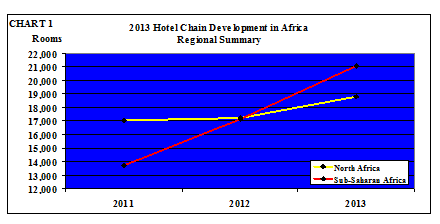 The pipeline in North Africa has experienced relatively little growth, for two reasons – several hotels in previous years' pipeline data opened in 2012 (Accor alone opened 8 hotels with 1,153 rooms in Algeria, Morocco and Tunisia), and the political turmoil in the region has had a negative effect on new investment and, therefore, new deals.
In North Africa, the development pipeline grew by 9 per cent in 2013.  In sub-Saharan Africa, however, the increase was a massive 23 per cent.  This compares to 4 per cent growth in Europe and 8.6 per cent growth in Asia Pacific, according to pipeline data produced by STR Global (although the growth in Africa is from a much lower base).
The top ten brands by number of hotels and rooms in their pipelines are shown in Table 2 and Chart 2.
TABLE 2

2013 Chain Hotel Development in Africa

Top 10 Brands by Number of Planned Hotels and Rooms

Rank by Hotels
Rank by Rooms
 
 
Change on 2012
Average Size
1=
Hilton
17
1
Hilton
5,400
68.4%
318
1=
Radisson Blu
17
2
Radisson Blu
4,191
11.5%
247
3
Novotel
12
3
Novotel
2,192
7.6%
183
4=
Ibis
11
4
Marriott
1,767
41.4%
196
4=
Golden Tulip
11
5
Park Inn
1,676
11.9%
168
6
Park Inn
10
6
Ibis
1,675
8.7%
152
7=
Marriott
9
7
Golden Tulip
1,608
88.7%
146
7=
Kempinski
6
8
Kempinski
1,481
8.0%
247
7=
easyHotel
6
9
Mövenpick
1,369
-37.3%
274
10
Mantis
6
10
InterContinental
1,296
-35.5%
324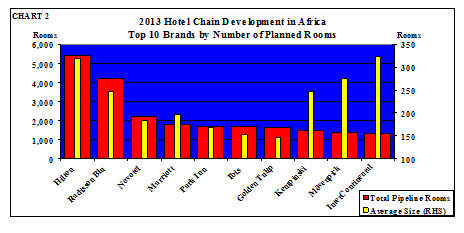 Table 2 and Chart 2 analyse the pipeline by brand.  The number one slot is occupied by the Hilton core brand on its own – the performance of Hilton Worldwide, and its pipeline in three brands (Hilton, Doubletree by Hilton and Hilton Garden Inn), is analysed in Table 4.
Two brands are first equal in terms of the number of hotels in the pipeline, but whilst this is an indication of how large the system footprint is set to grow, the number of rooms is a better
indication of future earnings, and Hilton outstrips Radisson Blu by almost 30 per cent on that measure, because of the larger average size of their planned hotels.
The above analysis is of brands – many of the hotel companies are multi-brand players, so it is relevant to look at it per group as well.  It is noticeable that the global chains are now entering the African market with more of their brands – Hyatt have signed their first Hyatt Place deal, Hilton are moving ahead with Hilton Garden Inn, and Louvre are bring Campanile and Première Classe to Africa.  This gives owners greater choice, whilst still receiving support from a major group.
Table 3 and Chart 3 show the pipelines by hotel chain.
TABLE 3

2013 Chain Hotel Development in Africa

Top 10 Chains by Number of Planned Hotels and Rooms

Rank by Hotels
Rank by Rooms
 
 
Change on 2012
Average Size
1
Accor
30
1
Hilton Worldwide
6,230
84%
271
2
Carlson Rezidor
28
2
Carlson Rezidor
5,947
11%
212
3
Hilton Worldwide
23
3
Accor
5,165
-14%
172
4
Marriott
22
4
Marriott
3,900
55%
177
5
Louvre
17
5
Starwood
2,514
17%
279
6
Starwood
9
6
IHG
2,413
-16%
302
7=
Best Western
8
7
Louvre
2,290
146%
135
7=
IHG
8
8
Kempinski
1,481
8%
247
7=
Lonrho
8
9
Mövenpick
1,369
-37%
274
10
Kempinski
6
10
Rotana
1,355
8%
271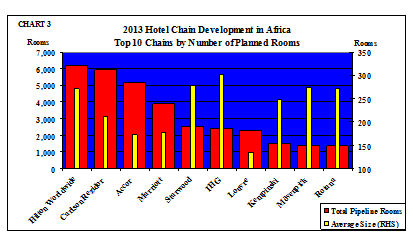 All the majors are there, dominated by Hilton Worldwide and Carlson Rezidor, both of which have invested heavily in establishing development offices in Africa.  Best Western enters the ranking with eight signed membership agreements and almost 800 rooms, of which all but one property is under construction.  Six new African Best Western hotels are due to open in 2013, taking the total to 14 hotels with over 1,500 rooms.
Where is all this activity taking place?  Of the total pipeline, 47 per cent is in the five countries of North Africa, and 53 per cent in the 49 countries of sub-Saharan Africa.  Table 4 shows the top ten countries.
All of the five North African countries feature in the top ten destinations for branded hotel developments, the majority of activity are located in Egypt and Morocco, where the tourism industries are most well-established.

TABLE 4

2013 Chain Hotel Development in Africa

Top 10 Countries by Number of Rooms

Hotels
Rooms
Average Size
1
Egypt
20
7,644
382
2
Nigeria
49
7,470
152
3
Morocco
30
5,178
173
4
Algeria
17
3,160
186
5
Kenya
11
1,469
134
6
Ghana
8
1,441
180
7
Tunisia
6
1,441
240
8
Libya
4
1,359
340
9
South Africa
8
1,320
165
10
Gabon
7
1,128
161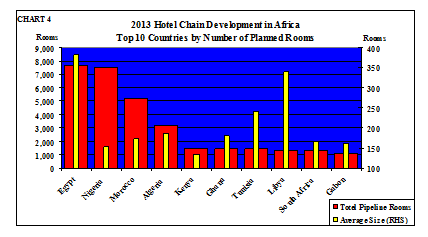 Nigeria, Africa's largest country by population, the power house of West Africa – and tipped to overtake South Africa this decade as the largest economy on the continent - has almost 7,500 rooms under contract, up 10 per cent on last year's figure, with at least two more deals signed since the beginning of 2013 (not included in the above data), and thousands more in the "nearly" category.
Note that hotels being planned or developed in North Africa are typically larger than those in sub-Saharan Africa, particularly in Egypt.  Nigeria may have the largest pipeline in sub-Saharan Africa, but the average size of hotel there is relatively small.  Conversely, however,
one of the largest hotels in West Africa, the InterContinental Lagos with 358 rooms, is due to open in 2013.
New to the Top Ten in 2013 are Kenya and Gabon.  Nairobi is the focus of attention in Kenya, with seven companies entering the market there – Best Western, Country Lodge, Accor (Novotel and Ibis), Carlson Rezidor (Radisson Blu and Park Inn), Dusit, easyHotel and Kempinski.  With almost 1,500 rooms between them, of which almost 700 are due to open in 2013, is an oversupply situation looming?
On average, the global hotel brands have less than 2 per cent of their total rooms in sub-Saharan Africa, and with rapid expansion of their existing and upcoming hotels in China, India and other developing and developed countries, this percentage could drop further.  But the rewards in Africa are high, and with economic growth rates in many countries of 7 per cent and above, it is regarded by many as the most profitable place to do business – just slower than "normal".
Many projects in sub-Saharan Africa are delayed from their original opening date, for a variety of reasons.  But we see that improving, as more sophisticated investors, including specialist funds, enter the market, capable of running a successful development project.  We have identified five hotel funds currently active in Africa, with others being established, seeking acquisition and new-build opportunities.  In addition, several international construction companies, from Europe, the Middle East and elsewhere, are eying the market, bringing construction finance with them.
Since we first started the hotel pipeline survey in 2009, we have seen the number of rooms increase from 30,000 rooms to 40,000 rooms, and in the intervening four years, the hotel chains have opened an estimated 20,000 rooms in Africa.
Africa is firmly on the agenda!
*****************
Notes on the sample:
We sent questionnaires to 42 international and regional hotel chains, of which 29 submitted data.  In addition, three international chains provided a zero-deal return, and two South-Africa based chains declined to participate this year (although they had participated in the past).  We polled only those international chains with an interest in being in Africa, or Africa-based chains with operations and/or deals outside their home country.
This report summarises the results of our analysis.  Detailed information on all the deals signed by the chains are provided only to the contributors.
Trevor Ward
W Hospitality Group, Lagos
trevor.ward@w-hospitalitygroup.com