In the hotel development stakes, West Africa is once again the winner!  Our 2015 Hotel Chain Development Pipeline Survey shows West Africa with 53% of new rooms in future new hotels in sub-Saharan Africa, more than twice that in East Africa, and five times Southern Africa.
These are deals signed by the international and regional chains for new hotels opening between 2015 and 2020, some on site, under construction, others still doing the paperwork.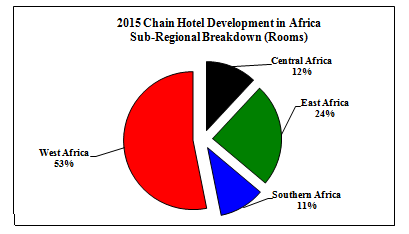 Within West Africa, deals for new hotels have been signed in 12 countries – Benin, Cape Verde, Cote d'Ivoire, Ghana, Guinea, Mali, Mauritania, Niger, Nigeria, Senegal, Sierra Leone and Togo.  Of these, it will be no surprise that Nigeria has by far the largest pipeline in the region, and indeed on the continent as a whole – 51 new branded hotels with 8,600 rooms, both more than half the regional total.  No surprise, as Nigeria is, after rebasing last year, the largest economy on the continent, the largest population and, apart from South Africa, has the largest number of urban conurbations where new hotel development can be undertaken.
Three countries have no new deals in the pipeline - Liberia, Guinea Bissau, and The Gambia, of which Liberia has no branded hotel supply at all, and Guinea Bissau and The Gambia only one hotel each (Azalaї and Sheraton respectively).
So shall we see a plethora of shiny new hotels opening in West Africa?  Well, we hope so!  In 2015, expect to welcome the Marriott and Kempinski in Accra, and the first ever Noom, in Conakry, and the first ever Yaas, in Dakar.  Both brands are owned by Mangalis, a new entrant to the African market, with no fewer than 17 hotels planned in West and Central Africa.  Best Western have 3 openings scheduled in Nigeria in 2015, all in secondary cities – Asaba, Awka and Makurdi – as the brand continues to grow its presence in Africa.  Also in Nigeria, Starwood are opening their second Four Points, this one in IkotEkpene in AkwaIbom State, and Wyndham their first in the country, the Ramada Plaza in Lekki, east of Lagos.
Azalaї expect to open in Nouakchott and Abidjan, and Onomo in Bamako and Lomé.  Also in Lomé, Carlson Rezidor have taken on the Hotel du 2 Février, closed for several years, to open this year as a Radisson Blu, and the company's first Park Inn by Radisson should, finally, open in Abeokuta in Nigeria.
So, a bumper year for West Africa!  Terribly exciting, of course, but as usual every silver lining has a cloud.  West Africa is still suffering from the Ebola crisis, which is far from over, especially in Liberia, Sierra Leone and Guinea.  Whilst the outbreak itself has been contained very effectively within those three countries, the hotel industry in major cities elsewhere in the region, especially Accra, Lagos and Abuja, has been very badly affected due to a lack of confidence, and a fear of contagion, resulting in much lower demand levels than normal.  Add to that the economic malaise in Ghana, and the several factors affecting Nigeria currently (low oil price, political uncertainty et al), and new hotel openings could be, well, ill-timed.  Accra had no reported incidences of Ebola, yet hotel occupancies crashed in 2014, and the opening of two major new hotels there this year – Marriott and Kempinski – will mean more rooms chasing the same number, or perhaps fewer, guests.
Ah well, such is life in the hotel industry!  We do seem to go from boom to….  well, not exactly bust, because the underlying dynamics of the region are still buoyant, travel is increasing, the economies are (mostly) on the up, and we really do need new hotels to replace those old ones which are just not meeting our needs anymore, and the owners of which can't, or won't, upgrade them.  The hotel industry globally is, essentially, cyclical, affected by positive and negative external events, and by new hotel openings affecting the dynamics of the supply-demand equation.
I'm not convinced that all the hotels slated for opening in 2015 will actually happen, but they will open at some time (soon?!), benefiting the weary traveller (modern product, trained staff, good security etc.), the local economy (taxes, jobs etc.) and the image, and therefore the attractiveness, of the destination.  A welcome example of that will be the opening of the Noom in Conakry.  It was supposed to open in 2014, but was delayed due to the Ebola crisis.  Expected to open this year, it will be a major part of the declaration that Conakry is "back in business".
Trevor Ward
W Hospitality Group, Lagos           
trevor.ward@w-hospitalitygroup.com