Warning
: Undefined array key "doc_width" in
/var/www/wp-content/plugins/simple-pdf-viewer/simple-pdf-viewer.php
on line
63
Warning
: Undefined array key "bttn_style" in
/var/www/wp-content/plugins/simple-pdf-viewer/simple-pdf-viewer.php
on line
67
Warning
: Undefined array key "bttn_color" in
/var/www/wp-content/plugins/simple-pdf-viewer/simple-pdf-viewer.php
on line
69
A Review of Current status of Hotels listed in 2019 Pipeline Report
Warning
: Undefined array key "doc_width" in
/var/www/wp-content/plugins/simple-pdf-viewer/simple-pdf-viewer.php
on line
63
Warning
: Undefined array key "bttn_style" in
/var/www/wp-content/plugins/simple-pdf-viewer/simple-pdf-viewer.php
on line
67
Warning
: Undefined array key "bttn_color" in
/var/www/wp-content/plugins/simple-pdf-viewer/simple-pdf-viewer.php
on line
69
Our 'Pipeline' report has just been published, showing a total pipeline of 401 new hotels due to open between 2019 and 2026, with just over 75,000 rooms. Of those, 110 deals were signed in 2018 and the first couple of months of 2019, accounting for 18,651 rooms.
Warning
: Undefined array key "doc_width" in
/var/www/wp-content/plugins/simple-pdf-viewer/simple-pdf-viewer.php
on line
63
Warning
: Undefined array key "bttn_style" in
/var/www/wp-content/plugins/simple-pdf-viewer/simple-pdf-viewer.php
on line
67
Warning
: Undefined array key "bttn_color" in
/var/www/wp-content/plugins/simple-pdf-viewer/simple-pdf-viewer.php
on line
69
Do you really want a robot to deliver your room service order? There have been a couple of reports
recently about hotels in Asia and their experiences with robot staff, both positive and negative
Warning
: Undefined array key "doc_width" in
/var/www/wp-content/plugins/simple-pdf-viewer/simple-pdf-viewer.php
on line
63
Warning
: Undefined array key "bttn_style" in
/var/www/wp-content/plugins/simple-pdf-viewer/simple-pdf-viewer.php
on line
67
Warning
: Undefined array key "bttn_color" in
/var/www/wp-content/plugins/simple-pdf-viewer/simple-pdf-viewer.php
on line
69
A recent report from the Lagos State government said that Lagos had a record December, with spending of more than NGN50 billion (that's about US$140 million, or US$4.5 million each day) in the hospitality and
entertainment sector, mostly over the Christmas and New Year holidays.
Warning
: Undefined array key "doc_width" in
/var/www/wp-content/plugins/simple-pdf-viewer/simple-pdf-viewer.php
on line
63
Warning
: Undefined array key "bttn_style" in
/var/www/wp-content/plugins/simple-pdf-viewer/simple-pdf-viewer.php
on line
67
Warning
: Undefined array key "bttn_color" in
/var/www/wp-content/plugins/simple-pdf-viewer/simple-pdf-viewer.php
on line
69
Just when we thought we had just about everything thinkable in terms of business ideas related to the sharing economy, up springs coworking spaces. We shared cars with Uber, our homes with Airbnb, and now we work together.
Warning
: Undefined array key "doc_width" in
/var/www/wp-content/plugins/simple-pdf-viewer/simple-pdf-viewer.php
on line
63
Warning
: Undefined array key "bttn_style" in
/var/www/wp-content/plugins/simple-pdf-viewer/simple-pdf-viewer.php
on line
67
Warning
: Undefined array key "bttn_color" in
/var/www/wp-content/plugins/simple-pdf-viewer/simple-pdf-viewer.php
on line
69
It was such a pleasure to stay in the new Fraser Suites hotel in Abuja recently.It had been a long time coming,and before opening was the only internationally-branded hotel under construction in central Abuja. It is now the first such property to open in Abuja for eight years – whilst the pipeline of new hotels is quite large, still none of them has broken ground.
The Fraser Suites in Abuja has 126 rooms and apartments, ranging from studios to four-room apartments, all with kitchenettes or full-on luxury kitchens, which many of us would love to have at home. And that's one of the pillars of the extended-stay concept, that guests who are staying for a long time (several weeks and more) will treat these apartment as their own, enjoying the flexibility, privacy, routine and comfort of home. Says one of the Hilton executives in charge of extended- stay brands: "the guest who has a longer stay has different needs and those needs drive behaviour: a focus on the stay experience and the living space; a desire to maintain their normal routine; and a need to feel nurtured and taken care of while away from home and loved ones."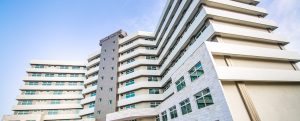 Many hotels claim (and surely many are tongue-in-cheek!) to be 'home away from home', but when you're stuck in a bedroom with a chair and a bed, sometimes with a kettle and poor quality instant coffee to keep you company, that certainly ain't nothing like my home! The living space experience is of great importance… I want a sofa to sit on, please, not just a chair, and enough room to spread my stuff around without having to extend to piles of paper on the bed.
Back to the Fraser Suites in Abuja. Not only a squeaky clean new hotel, but one that has been finished to a very high standard, much higher than many new hotels in Nigeria. Despite the fact that the owners are new to the industry, they understand that quality matters, and have delivered a very high quality product. Consequently, they are able to command a premium price for their rooms and apartments,and the product has been welcomed by the market, with various foreign embassies and international customers already signed up to stay there.
I love extended-stay hotels, both as a guest and as a commentator on the industry. As a guest, I like the extra space and privacy, particularly the separation between living and sleeping (no more sitting on the bed to view the TV properly). Have I ever stayed in one for a long time? Nope! That's not my travel behaviour. I'm usually a one or two-night man, but extended-stay hotels are just as attractive to me as they are to the guy staying for weeks or months. Whilst the operator of an extended-stay hotel would love to fill the whole inventory with long-stay guests, it rarely happens, so transients like me are also welcome, when rooms are available. According to Hilton, only a third of guests staying in their Homewood Suites hotels are long-stay, the rest are transient.
An aside about terminology. In Europe, brands tend to call their properties serviced apartments(Fraser Suites call themselves that), whilst others use the expression 'aparthotels'. Extended- stay is a US term, which I favour, because I find that serviced apartments are often merely apartment blocks with a reception, maybe a pool and occasional housekeeping services. Brands like Fraser Suites are definitely not that, they are further along the scale to being a proper hotel. Now here's an interesting fact– in a survey of American users of extended-stay accommodation, only 7% of business travellers, and 9.7% of leisure travellers, want a fully-fitted kitchen when on an extended trip away from home. Let's face it, how many business travellers are likely to whip up a meal for themselves? What guests really want is a complimentary breakfast and free wi-fi – tops for almost 75% of business travellers and almost 70% of leisure travellers (Fraser Suites Abuja provides both). Who else is in this space? In our 2017 data we have 12 extended-stay hotels in the chains' development pipelines, out of a total of 417 properties. Marriott leads with six properties, Residence Inn and Element; Frasers Hospitality has another Fraser Suites planned in Brazzaville; and there's a Hyatt House, an Arjaan by Rotana, Accor's Adagio and the Executive Residency by Best Western in Nairobi (now open)…not just the first of the brand in Africa but one of the first globally.
For investors, extended-stay makes a lot of sense – occupancies tend to be higher than in full- service hotels, operating expenses lower, and therefore profits are increased. So why aren't there more extended-stay hotels in the pipeline in Africa? Partly I think it 's because investors here are unfamiliar with the concept, and cannot envisage owning a hotel without multiple restaurants,bars, banquet halls and the like. And partly because some chains haven't been pushing their extended-stay hotels on the continent, preferring to lead with their core brands first, and then fill in the gaps later.Well, that's a maybe, but as far as I can determine, Fraser Suites in Abuja has taken the top spot in West Africa, at least for now.
Trevor Ward MD: W Hospitality Group
Warning
: Undefined array key "doc_width" in
/var/www/wp-content/plugins/simple-pdf-viewer/simple-pdf-viewer.php
on line
63
Warning
: Undefined array key "bttn_style" in
/var/www/wp-content/plugins/simple-pdf-viewer/simple-pdf-viewer.php
on line
67
Warning
: Undefined array key "bttn_color" in
/var/www/wp-content/plugins/simple-pdf-viewer/simple-pdf-viewer.php
on line
69
There's a new kid on the block in Lagos!  The George, a 62-room boutique hotel, opened in June, and is managed by the Mantis Collection.
MICE Events in West Africa: A Delegate's Guide
Observe any airport lounge in Lagos, Accra, Abidjan or Dakar, and you'll notice thesheer number of travelers in the sub-region travelling for business, be it for meetings, incentives, conferences or exhibitions or any other type of event. This observation is certainly not unique to West Africa, but isevidence of the sustained interest in the continent, its potential and the opportunities it presents. MICE events are gaining ground in West Africa as businesses and governments seek to connect interests and present opportunities for collaboration.
While the sub-region does not have the established MICE industry and stories as can be found in East Africa in cities such as Kigali, Nairobi, Addis Ababa, Arusha and Dar es Salaam, or in South Africa with the Cape Town International Convention Centre; destinations in West Africa such as Accra, Dakar,Abidjan, Lagos and Abuja are established MICE hubs in West Africawith regular events scheduled throughout the year.
You may have been a delegate at any of these events,or are likely to be invited in the future, but any event is only as good as the value you are able to draw from it. Optimizing your attendance at a MICE event starts, of course, fromknowing about it in the first place!
One good way to do this is to connect and become a member of the professional associations that operate in your industry. This will ensure that you are on the mailing list for announcements on relevant events.LinkedIn is another good way to identify and connect with the key people in your field, and receive notifications on upcoming relevant events – join relevant LinkedIn groups. Another strategy is toensure that your company is on the mailing list for newsletters from and announcementsby reputable eventorganizers such as Bench Events, API Summits andLnoppen (there are several more) who organize regular events in West Africa, and sign up with exhibitors and for trade and business magazines – this way you get to know of relevantMICE events which will help you plan for these in your company's annual budget and event calendar.
Event Registration
Registration for MICEevents should bedone as well in advance as possible to take advantage of early bird rates. Early registration also enables you to get a room in the hotel accommodation of your choice – good MICE organizers provide a list of preferred hotels close to the event venue(s) with specially negotiated rates for delegates.It's good practice to stay at one of these preferred hotels because they provideavenues for networking in a relaxed atmosphere. Staying at the hotel also makes it easy for airport transfers, and to be easily informed of any changes to the schedule or any new information that may arise over the course of the event.
Closer to the time, double check online to ensure the event programme has remained the same- some popular networking events might require pre-booking to get in, and it is good practice to review the programme to highlight any changes or connect with any speakers you would like to speak with.
Travel and Getting to the City
If at all possible, try to get into the host city a day or two before the event, depending on where it is that you are travelling from – this ensures you are able to attend the event, even if there are last minute airline cancellations or flight delays, and so you won't miss any of the opening activities.  Cutting it too fine is asking for trouble in West Africa!
Make sure you have your valid passports and visas for the country you are going into and any required vaccinations. A Yellow Fever vaccination card is one of the most important requirements for travel to West Africa.
Plan for the Event Programmes
The organizers should have designed an event programme that has something of interest to every delegate. Spend some time going through the programme and earmark the sessions you need to attend that will be of interest and relevance to your work. Draw up your own personal event timetable, and you will see if you have any free time during the day, which you can use to schedule meetings. I always suggest that delegates attend a few sessions that are outside of their direct field of interest, try to attend one or two of these – you will be surprised at what information you can learn and who you may meet and the business connections that can come out of going slightly out of your comfort zone.
MICE events provide speakers who are experts in their field, and you can gain valuable insights in 10-15 minutes of a meeting or speaking to an exhibitor. Who knows, the new subject area can spark ideas and reveal business opportunities!
Networking
Take an ample supply of your business cards – that means take far more business cards than you think will be necessary – it is always better to have more than enough than not. It looksooounprofessional to keep saying"I've run out of business cards".
A few weeks to the event, or now, go through your business cards and ensure that these have the most up-to-date contact information for you – it is also not very professional to give out your business card, only to have to be correcting your telephone numbers or email address on the card.
The aim of these events is to provide the space for individuals working in similar or related industries to meet and connect and, hopefully, collaborate in the future. The aim is not to speak with every attendee, rather after every session, or during the breaks built into the
programme, you can identify a few people that you would like to speak with, and try to get to know them, and what it is that they do, and how your business may be of value to them.
There is a fine art to networking. It is important to be able to communicate as clearly and as simply as possible, what it is that you do, and why you are at the event.
When you meet someone, introduce yourself and have a thoughtful comment about the meeting, conference or exhibition, and then ask what they are working on, and perhaps why they are at the event.  It is rude (and immature) to go to these events and aim to get business cards from every attendee - more polite and more effective is to connect well with four to five individuals and build a relationship with them.  They in turn might be able to recommend/refer you to other individuals over the next couple of days.
Explore
West Africa really is a beautiful region, and if possible try to stay one or two days after the event to explore the host city.  The event organiserswould have chosen the city for a reason, and may have organized some experiential learning tours to bring the city to life for delegates. Take part in these as best as you can. Not only do they give you a chance to explore the city, they also provide additional networking opportunities. West Africa is generally safe, and its people are very friendly and hospitable.
As with any event meeting or gathering, attend these with as open a mind as possible, but with a clear idea of what you would like to gain from the event, and do try to touch base with good connections once you get back to your office, you may have come across an article or report that will be of use to them and it is helpful to share these in the emails you send – it makes you more memorable!
Trevor Ward
W Hospitality Group, Lagos           
trevor.ward@w-hospitalitygroup.com
The future of service standards in the tourism, hospitality and leisure in Nigeria
If you've travelled to Nigeria, there's always a recollection of some intense experience that one tends never to forget. Going over these memories sometimes brings with it a sigh of nostalgia perhaps? Maybe of the wonder with which you experienced how things run differently over there. But what is for certain is that one never remains indifferent about Nigeria.
Thinking about it, if you visit one ofthe more urban chic restaurants in Lagos and Abuja, the bill is usually brutal but worth the food experience, especially if it's a fusion of the local and the more familiar. What creates the more lasting impression, however,is more normallythe lack of connectivity between you and the server. That almost tangible fear expressed by the server of not engaging with you in a lively conversation. The 'deer in the headlights' look you get when you ask anything outside of the script such as "may I have a side dish instead of an entrée?"is not uncommon. The thought that, in Nigeria, servers are trained to be sullen and unwelcoming.An exaggeration maybe, but the truth is, there's a longway to go in the hospitality space when it comes to bringing people up to scratch in service delivery.
Hospitality is fun, engaging, confident. Sadly, this does not cut across the board, as many of thepeople employed in the industry are "in transit" to other "more respectable" jobs.  What elsewhereis considered normal and respectable for a student who needs to fund his lifestyle and pay his way through university simply is not the norm in Nigeria. We talk of adults in their twenties (and some try their luck all through their thirties!) still depending on mum and dad for pocket money. Serve in a bar or a restaurant? Unthinkable! This is a pity because we deprive the industry of a vibrant and energetic resource - people who can think on their feet, who have the basic exposure to be able to carry out a meaningful conversation, who are confident, and who love what they do.
I'm dreaming, but I think it's possible. While changing the culture and attitude to service jobs might be a tall order in the short term, one of the agents of change is found in people management. Fine, this is what we have, but what can we do to transform our human resources into real human capital?The transformation from liability to value creator.It takes a lot of work and creativity but it's not a whim. The quality of people management strategies has to be the one most singular transformative solutions to the quality of human capital across the sector. How this is done will depend on many factors, internal as well as external to the organisation, but it can be done.
Three things come to mind when it comes down to it. The first is the need to beef up service training. It's really important that people – both employers and employees - appreciate the distinction between servitude and service. This is probably where the general aversion to hospitality jobs stems from. Good news is that the culinary arts sector has broken away and is cruising towards becoming one of the trending careers for young people in Nigeria. Thanks to the growing number of celebrity chefs and cooking shows, a lot more people are forming a real appreciation for pots and pans…and yes, it's in! The onus is now on the rest of the pack to catch up.
My second suggestion is to rework the content of service training to build a pool of skills, knowledge and confidence. Let's face it, people are bound by the limits of what they have been exposed to, a classic case of one only being able to give what one already has. And I'm convinced that the service attitude we look out for is already there, but needs to be teased out – some hoteliers have succeeded in that. African hospitality isn't a put-on, it's a given. When you visit friends at home, it is considered an honour that you came. That's why perfect timing is when you happen on the folks as they sit down to a meal; you get a space at the table by default. That's the way things are. It is how to translate this natural gift of hospitality into the commercial space, that beckons on trainers and educators to get right. To reach the relaxed, professional level of service requires a confidence born of people comfortable with what they know and what they can do.
Finally, owners and managers need to understand the connection between people management practices and business performance. If our service staff are to deliver excellent service, then there needs to be an enabling environment to foster excellent performance. And it isn't always about money. An open door policy to hear how they got to work that morning. For many, this daily adventure is material worthy of a reality show. Did you get onto the ferry on time or it just didn't turn up? Sometimes the human resource manager should realise that talking about an issue helps to diminish the perception of a hopeless situation. This is not to suggest that our workplaces become counselling centres, but it does help to consider the welfare and work-life balance of the people who serve our guests.
Back to the server we talked about earlier. Imagine the future for a second - a confident, well-spoken young lady approaches your table and suggests you try the Jollof rice instead of the fries. A much better choice sir, it's the best Jollof rice on the continent!
Trevor Ward
W Hospitality Group, Lagos           
trevor.ward@w-hospitalitygroup.com