Long-dominated by the luxurious Sheraton Hotel, Addis Ababa is seeing a huge expansion in its hotel stock currently, with at least 1,250 mid-market to upscale new rooms actually under construction, and a further 800 to 1,000 in the planning stages.  The Sheraton, and the other branded hotel, the somewhat aged Hilton, are likely to be joined by Holiday Inn, Radisson, Marriott, Ibis, Novotel and Four Points in the very near future.
Driving this boom is a rapid emergence from Ethiopia's dark years, and particularly greater confidence in the economy on the part of the large and successful Ethiopian Diaspora.  Addis Ababa is one of Africa's primary administrative centres, the home of the African Union and the United Nations' Economic Commission for Africa.  Ethiopia is an attractive country from an investor's point of view, with its population of 77 million providing an inexpensive, well-educated and trainable labour force.  It is strategically located at the crossroads between Africa, the Middle East and Asia.
Agriculture is one of the country's most promising resources.  The potential exists for self-sufficiency in grains and for export development in livestock, vegetables and fruits.  Agriculture employs 80 per cent of the work force, and accounts for half of Ethiopia's GDP and 60 per cent of its exports.  Even though most production is at a subsistence level, large parts of commodity exports are provided by the small agricultural cash crop sector. Many other economic activities depend on agriculture, including marketing, processing and exportation.
Ethiopia's economic growth averaged 8.6 per cent (source: OECD) between 2004 and 2006, driven by agriculture as well as expansion in industry and services. Other sources report economic growth of 10 per cent for the past two years.  The World bank is forecasting 9 per cent annual GDP growth to 2010.
Business and conference demand accounts for some 75 per cent of the total demand for hotel accommodation in Addis Ababa and, unlike many African cities which rely almost entirely on the commercial market, the city enjoys a high level of demand from the leisure sector, approximately 16 per cent of total demand.
Ethiopia is shaking off its negative images, and having some success in the specialist leisure market, particularly travellers looking for a unique combination of adventure, history, natural wonder and religion.  Addis Ababa boasts several historic sites, such as St Georges Cathedral and the Menelik Mausoleum, but it is in the north and the south of the country that the main attractions lie, including the Northern Circuit, taking in such wonders as the sunken churches at Lalibela, and the Rift Valley to the
south, a birding paradise.  With the increase in tourists coming through Addis Ababa, local entrepreneurs such as Tadiwos Belete of Boston Partners, and Sheikh Al Amoudi of Midroc are investing in eco lodges around the country, tapping into their own resources as well as the Diaspora.
In addition to demand from business and other visitors to the country itself, Addis Ababa's new airport is attracting increasing numbers of transit passengers, with Ethiopian Airlines having one of the best hubs in Africa.  Troubles in neighbouring Kenya, and increasing crime at Johannesburg airport, have heightened the appeal of Addis Ababa as a transit hub.  This activity generates considerable demand for hotel accommodation, and Ethiopian Airlines, in partnership with Chinese investors, is planning a new hotel at the airport to accommodate that demand.
Passenger traffic at the airport grew at an average of around 20 per cent in the last three years (2004 to 2006, latest data available), and by 120 per cent since 2000; growth is forecast to be 13 per cent into the near future – Ethiopian Airlines will be the first in Africa to fly the new state-of-the-art Boeing Dreamliner.
For the country as a whole, international arrivals increased by 29 per cent in 2006 to almost 300,000, again more than double the 2000 figure.  Preliminary estimates for 2007 are for a significant further increase, due to the celebrations for Ethiopia's Millennium.
Occupancies in Addis Ababa averaged around 80 per cent in 2007 and, with demand growth forecasts of 8 to 10 per cent annually, much of the future supply should be able to be absorbed without a problem.  As is so often found in markets such as this, the internationally-branded hotels will achieve higher occupancies and rates than the locally managed ones, with the exception of the small boutique hotels that find their special market niche.  The State-owned Ghion chain of hotels has been the subject of privatisation rumours for many years, and it is hoped that the government's reluctance to do a deal to date will be overcome as more competition enters the market.
TOURISM AND HOTEL STATISTICS
International Traffic Movements at Bole

(Arrivals and Departures)

2000
2001
2002
2003
2004
2005
2006
Passengers
1,037,976
1,096,605
1,237,858
1,314,740
1,573,330
1,869,930
2,287,544
Growth (%)
-
5.6
12.8
6.2
19.6
18.8
22.3
Source: Ethiopian Airports Enterprise
Addis Ababa

Ethiopian Airlines Scheduled Passenger Movements

Year
Domestic
International
Ethiopian Total
Bole International Total*
Ethiopian Share (%)
2003/04
231,797
918,067
1,149,864
1,314,740
87.5
2004/05
253,037
1,186,754
1,439,791
1,573,330
91.5
2005/06
257,844
1,392,409
1,650,253
1,869,930
72.2
2006/07
257,282
1,730,932
1,988,214
2,287,544
86.9
Source: Ethiopian Airlines HQ/Ethiopian Airports Enterprise

* Calendar years 2004 to 2006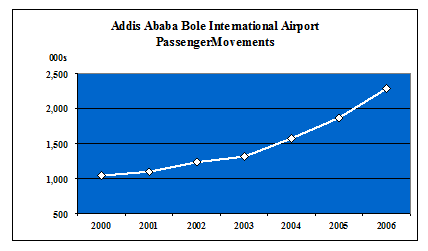 Addis Ababa

Transit Passenger Trends 2002  2006

2004
2005
2006
January
6,235
9,122
9,514
February
4,024
6,093
5,399
March
4,188
4,201
6,272
April
5,762
6,119
6,920
May
6,432
5,934
6,956
June
6,184
8,022
7,780
July
7,608
11,505
9,857
August
7,672
11,053
10,278
September
7,145
6,678
9,951
October
5,545
6,959
8,281
November
5,691
7,092
7,721
December
6,052
11,252
10,591
Total
72,538
94,030
99,520
Daily Average
198.7
257.6
272.6

Source: Ethiopian Airlines