An Update on the Lagos Hotel Market
Over the years, many observers and players have warned of oversupply in the Lagos hotel market.  Ten years ago there was very little to choose from, but in 2003 there was a surge of interest in developing new hotels, attracted by the high occupancies and room rates of the existing players, and the large number of hotels being planned was beginning to worry those observers.
In developed markets, it is very difficult to conceive of growth in the supply of or demand for hotels in double digit percentages year on year, and this was the paradigm that those observers were working within. How can demand possibly grow enough to cope with supply that is set to double in the next five years?
Figure 1 shows the evolution of supply in Lagos between 2003 and 2011, capturing those hotels in the city with a minimum quoted rate of US$100 per night.
Figure 1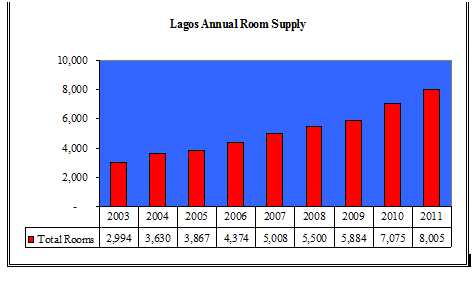 In fact, it took six years for the supply to double.  Notable openings included several by South African chains – Protea, Southern Sun, Sun International and Legacy.
Lagos Hotel Industry

New Supply

Hotel
Rooms
Opening Year
Federal Palace (Sun International)
150
2008
Protea Ikeja
92
2008
Southern Sun
195
2009
Protea Westwood
56
2009
Four Points by Sheraton
234
2010
Best Western, VI
112
2010
Best Western, Ikeja
142
2010
Ibis Lagos MMIA
204
2011
Radisson Blu
170
2011
Legacy Wheatbaker
67
2011
That's just over 1,400 new rooms, and at the same time there were several small, unbranded hotels entering the market.  So by the end of 2011, we had 5,000 new rooms, an increase of 167 per cent on the 2003 position.
Looking forward, there are some 2,900 new rooms in branded hotels, with contracts signed for management.  These hotels include second hotels for Ibis and Four Points, and the entry (and in two cases re-entry) of brands such as African Pride, Le Meridien, Holiday Inn, Mantis and InterContinental to the market.  One of the most visible of these is the 360-room InterContinental, a 25-storey building in the heart of Victoria Island.
Oversupply?  I don't believe so.  In the heady days of 2008, the average occupancy in Lagos was over 80 per cent, and some hotels were achieving over 90 per cent.  That is exceptional performance, and hotel owners were enjoying very high levels of profitability.  In 2012, the average occupancy is down at about 60 per cent – but within that sample you have new hotels which are still building their business, and which are achieving below 50 per cent, and those established, branded hotels which are achieving 75 per cent and above.  That is not a situation of oversupply.
The fact is that, whilst the future hotels can be identified, their completion is by no means certain, and it is a fact that no major hotel development has been completed on time, the delay being, in some cases, measured in years – the Radisson Blu broke ground in late-2003, and opened in mid-2011.
The reasons for these delays are not always clear, but contributing factors include:
lack of proper planning from the inception of the project, with no detailed budget for the whole financial requirement;
lack of focus from the developer on the project;
under-estimation of the likely total cost of the hotel, leading to a shortage of funds down the line;
lack of a professional project manager on the development team;
late engagement of the management company, leading to delays whilst changes are made to the construction on ground;
lack of available capital – many projects commence on site with only a portion of the total funding in place.
Of the 2,900 rooms in the future pipeline, 1,500 have yet to start work on site, and 566 are on-site, but work has stalled for some time.  So that means that only 834 are actively under construction.  With some unbranded hotels also underway, that means that only around 1,000 new rooms are "certain" to enter the market – but the InterContinental has been delayed several times, and that could happen to other projects as well.
Not only are new hotels delayed, and yet to start construction, but we have witnessed two hotel projects, both at the airport in Ikeja, apparently cancelled by the Federal Government for non-performance by the developer.  Together these hotels were supposed to have around 700 rooms and suites, so the existing hotels in Ikeja can continue enjoying their sellers' market for some time.
What does this mean for existing and prospective investors in the Lagos hotel industry?
Lagos is Nigeria's most economically important and prosperous city, containing much of the nation's wealth and economic activity, fuelled by one of the largest seaports in Africa.  The commercial, financial and business nerve centres of Nigeria are located in Lagos, where most of the country's largest banks and financial institutions are located, including the Nigerian Stock Exchange.  The State hosts 60 per cent of the country's total industrial investments and foreign trade while also attracting 65 per cent of Nigeria's commercial activities.  It also accounts for more than 40 per cent of all labour emoluments paid in the country, and has 45 per cent of Nigeria's skilled labour force.
It is estimated that Lagos State contributes more than 20 per cent of the national GDP, and a recent estimate placed the State's 2011 GDP at US$50 billion, the fifth largest in Africa and the largest in West Africa.  GDP growth in the country as a whole is estimated to be between 7 and 8 per cent, which means that growth in Lagos State is likely to exceed 10 per cent annually.
Growth in a diversified economy means greater demand for hotel accommodation, often at the same rate as GDP growth – a direct correlation.  Whilst there is high cost
inflation for hotel owners, room rates are typically pegged to the US dollar, providing something of a hedge against inflation.  And historic profits have been at very high levels – operating profits exceeding 60 per cent of revenue in many cases, compared to 30 to 40 per cent in Europe and in South Africa.  Reducing profits may not be welcomed, but will not represent a train-smash for appropriately-geared operations.
As for new entrants to the market, there is still plenty of room, in my opinion.  I do not see oversupply, except perhaps in the upper upscale market (if, and only if, all the projects go ahead, which seems unlikely) – that sector is probably full for now, but there is huge scope in the branded midscale and budget sectors, where operating costs are that much lower.
It is a difficult market to operate in, but Lagos is improving, and there is a better understanding today of how to develop a hotel than there was back in 2003.  In particular, we are seeing the introduction of professional consultants, both local and from abroad, to the project teams, so that the causes for delay, and in some cases failure, can be avoided in the future.
Trevor Ward
W Hospitality Group, Lagos
trevor.ward@w-hospitalitygroup.com