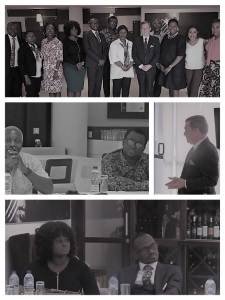 Hotel HR Forum:
Talent Maintenance Strategies at The Wheatbaker Hotel, Lagos
Where do I even begin?  Last count, I had scribbled notes that filled eight pages of my A4-sized writing pad! Today was the 7th edition of the Lagos Hotel HR Forum, hosted this time at the Wheatbaker Hotel in Ikoyi.  In case you missed it, the Wheatbaker Hotel has consistently stood at number one on Trip Advisor for close to nine years now.  Can you beat that?  And it gets better… close to 90 per cent of employees who opened the hotel are still there!  Staff turnover rates in Lagos are astronomical, so this is no small feat.  The milestones tell the story - same people, same rating, same consistency, year in and year out.  Someone somewhere must be doing something right! Because the alternative narrative would be a deadweight hotel with mediocre service.  And this is simply not the case at the Wheatbaker.  You'll understand now why we approached the team at The Wheatbaker to share their strategies for talent maintenance.
How does a hotel in Nigeria make things work? Wait a minute, why the emphasis on Nigeria?! Well, because of our collective disengagement from our beloved country, such that we believe nothing can work. Not true!  Things have worked, things do work and more things can work.  We just need to work harder to compensate for the shortfalls. That's me lifting a quote from Simon Grindrod, the General Manager.  He shared insights and experiences about being a leader.  Quite frankly, it all boiled down to this – take care of your people, and they will take care of the guests.  For owners, this translates to returns on investment.  When owners consider investing in a hotel development, and do not think equally of investing in people, then everything crumbles from the foundations.  Imagine being given a budget for the pre-opening to train 200 employees for a period of six months?  Yes, that serious!  And that's what happened, pre-opening, at The Wheatbaker.  A Human Resources director from another hotel commented how she had a target of one month to train double that number … and without the resources!  It all adds up, doesn't it?
Sometimes HRs get the wrong end of the stick.  Especially if you are saddled with a finance-oriented General Manager who does not empathise with people, or those owners who don't get it, plus employees who grumble about how things are … Poor HRs, you who have to balance the interests of owners, management and employees – it's hard work to make investment in people a business case that will attract the listening ear of those who hold the purse, but it pays out in the end.  Then from Simon, the golden rule – never humiliate employees in front of others.  If you have an issue, then address it behind closed doors.  The fastest possible way to resentment is to humiliate people.  In short, to do the little things, consistently.  That's the main thrust of their success at the Wheatbaker.  Not rocket science!
Ada Njoku, who has been The Wheatbaker's HR Director since inception, gave her session about practical strategies that have worked for them.  Last count, I had noted down 28 points!  But to summarise them in three words – Practice Situational Leadership!  Which means, the books give guidelines but when we are dealing with people in real-life situations, we need to take the circumstances into account.  Imagine a scenario where employees are paid on time, never have their days off tampered with, receive grooming kits, fresh towels for the showers, paternity leave, personalised birthday cards, visits for births and deaths, fruit baskets for sick calls, a whistleblowing policy, an in-house skill acquisition scheme, hardship allowances (remember how public transport fares double during disruptive events like the General Election and petrol scarcity?) and more.  I missed the chance of a lifetime to take a photo of one HR executive who had, by this time, a classic expression on her face that spoke volumes…is this for real? Well, we wanted to hear it from the source. And we did, The Wheatbaker is clearly the source of good HR practice.
Take home points?  Don't give excuses.  There are no incompetent soldiers, only incompetent officers!  Employees who feel heard, respected, valued, cared for and empowered, do give back.  They are not stupid.  Think long and seriously about it.  A great employee experience can make you hit or miss your targets. Which do you prefer?
Belinda Nwosu W Hospitality Group
Register to attend  the next edition