The industry etimate half of the planned Hotel development in Africa will not open in 2020
Our 'Pipeline' report has just been published, showing a total pipeline of 401 new hotels due to open between 2019 and 2026, with just over 75,000 rooms. Of those, 110 deals were signed in 2018 and the first couple of months of 2019, accounting for 18,651 rooms.
Do you really want a robot to deliver your room service order? There have been a couple of reports
recently about hotels in Asia and their experiences with robot staff, both positive and negative
[vc_row][vc_column][vc_column_text]The chairs in the lobby, the front desk, the tables in the restaurant, and what goes on top of them (plates, glasses, silverware etc.), and in the bedroom of course there's the bed, and the sheets and towels, and so on. In the industry, we call it Furniture, Fixtures and Equipment (FF&E) and Operating Supplies and Equipment (OS&E). Simply put, FF&E is the big stuff, OS&E is the small stuff. [/vc_column_text][/vc_column][/vc_row]
7 Key Areas for People Management in the Hospitality Industry in Africa
One of the major challenges we face in our industry is human capital development, particularly here in Africa. Imagine my delight at being invited to a workshop on Sustainable Tourism in Africa to reconsider employment and human capacity development for our region. For anyone working in this industry, this concern will always be in the forefront.
Indeed, I captured the title for this article from Professor Thomas Baum of the University of Strathclyde at a workshop I attended which was held in Johannesburg in September 2017 (By the way, the 'P' stands for people!).  A Newton Fund-sponsored event, tourism scholars from Kenya, Zambia, Zimbabwe, Nigeria, Ghana, South Africa and the United Kingdom all gathered together at the University of Johannesburg for a gruelling week of presentations and, of course, the statutory tour of the sights and sounds of the amazing city of Jozi!
One of the key ideas that came through from the workshop was the need to find home-grown solutions to the challenges facing human capital development in the tourism industry in Africa. Now this bedrock idea germinated into several mini-ideas in my mind, like what are the issues that exist within the people space in tourism? What do human resource directors identify as their main issues? What do the employees themselves think are their issues? Middle management? Owners and investors? Think about it, by considering the different perspectives each stakeholder group might have, we create a mine of data that could provide the very answers we seek.
My thinking is that before we proffer ready-made solutions for how things could be made better, we need to spend more time digging and getting to the root of the matter. Sub-Saharan Africa is currently the largest growth market for hotels in the world. We need to think how to bring our people up to scratch to support this growth. First stop, what do the HR directors think?
Early December 2017, I organised a focus group discussion with three human resource directors from international chain hotels in Lagos. They shared their experiences and gave first-hand insights into their HR concerns. We concluded that people management for the hotel sector needs to focus on seven core areas:
coaching employees to transit from a "job" mind set to a "career" mind set;
reworking employment benefits schemes;
refocusing on training and development;
recruiting and retaining talent;
employing for diversity;
managing the organisational climate; and
the critical role of management.
Each one of these concerns is a challenge in its own right, but holds the key for putting the 'P' back in tourism!
So this basically sums up what will be the focus of the series of articles that I will be posting over the coming year.  Looking at these core areas, we will explore where we are right now in terms of human capital development, and what we need to do in order to get to where we need to be.
I end with a quote from one of the HR directors:
"You have to be on the shop floor, helping the people...you have your HR coordinators who do the nitty-gritty work for you. But you, the HR Director, you have to be on the floor with the people, talking to them, encouraging them!"
This promises to be an exciting exploration of the deeper perspectives.  Hold tight!
Terrorism is an unfortunate "fact of life" that has plagued society throughout the whole of the last two millennia. In recent years an increasing number of attacks, across a wider part of the world, have led to a changing dynamic in relation to the impact of such attacks.
In this research paper David Harper, Head of Property Services for Hotel Partners Africa, provides some unique research on the impact of such terror attacks, with the help of hotel trading statistics and analysis, carried out by STR.
The impact of terrorism on the hotel and resort market in Africa has been substantial over the last few years, making the need for careful analysis of the phenomena essential.
The research bears out the following 13, important conclusions, with some significant implications for how countries and the Travel & Tourism industry deal with terror attacks:
1.    The impact of terror attacks across the world is lessening
2.    There has been a marked rise in terror attacks in recent years
3.    The average casualty count has declined in recent years
4.    In general, international tourism is resilient to terrorism
5.    Recovery times for all types of locations are improving
6.    Recovery time depends on the profile and scale of the market place
7.    The impact of terrorism varies by political regime, income and tourism intensity
8.    The long-term impact depends on the public perception of safety and on the trust placed in the authorities in that location
9.    Political unrest has a longer-term impact than a terrorist attack
10. Frequency of attacks has a greater effect than the severity of an attack
11. The coverage in the media has an important impact on trading
12. The impact of an attack tends to be region-wide, so there is a financial imperative on neighbouring countries to try and stop any attacks being made on their neighbours
13. On average you are five times as likely to die by falling out of bed than you are to die as a result of a terrorist attack
For further information or for a copy of the full research paper, please contact David Harper at David.Harper@HotelPartnersAfrica.com
Is Lagos the hottest hotel development market in Africa?  Look at the fundamentals: a city of some 15 million inhabitants, projected to be one of the world's 10 "mega cities" by 2025; the commercial centre of the continent's second-largest economy; the main aviation and shipping hub for West Africa, with a compound increase of 10 per cent in international arrivals in the last 10 years; and with occupancies in the city's hotels running at 85+ per cent year round.
Demand for Lagos' hotels is generated by three main sectors – telecommunications, banking, and, of course, oil and gas.  The latter is the driver of Nigeria's economy, with oil output of 2.5 million barrels per day (mbpd) due to double by 2010, and major expansion in gas production.
Yet no major new hotel has opened in Lagos since the Sheraton in 1985.  So demand outstrips supply, leading to high rates for rooms, and high profits for owners.  The leading hotels are charging US$300 to US$400 per night for a standard room, and despite some high operating costs, particularly energy and maintenance, that translates into high profits.  Large hotels in Lagos can produce operating profits of 55 per cent and more, compared with European hotels averaging in the order of 35 to 40 per cent.
There are several new hotels under construction, but many are delayed from their originally-projected opening date.  Why?  Most often due to a lack of funding.  Whilst in most markets hotel developers secure the total funding before starting work, it seems to be the norm that only part of the funding is secured, and developers underestimate the time it takes to raise the balance, leading to (expensive) delays in completion, most often measured in years.  Other expensive mistakes include not bringing the hotel operator on board from the outset, and very often the operator requires changes to the existing structure in order to meet brand standards.
What's the solution?  Clearly, it makes better sense to raise 100 per cent of the finance prior to starting work on site, or at least before starting the superstructure.  And it is never too early to bring the operator on board, to save expensive alterations later on, and even to save money through better design and procurement.
Lagos is, indeed, the hottest market in sub-Saharan Africa, and there are multiple opportunities for new investors to enter the market, from boutique hotels, catering to the discerning executive traveller, to large internationally-branded operations for the corporate and conferencing market.  Problems in the Niger Delta are forcing many companies to relocate their operations to Lagos, resulting in higher demand for hotel accommodation at all levels.  Proper planning of a project, avoiding the mistakes of others, could well mean that your new hotel will open before some of those currently under construction!
International Hotel Supply in Lagos
Hotel
Bedrooms
Room Rate

(Standard Room US$)

Affiliation
Sheraton Ikeja
332
477
Starwood
Sofitel Moorhouse
92
360
Accor
Eko Hotel and Suites
584
345
None - unbranded
Protea Victoria Island
58
314
Protea
Protea Kuramo Hotel
60
254
Protea
Protea Oakwood Park
62
308
Protea
Protea Maryland
50
296
Protea
TOTAL
1,238
 
 
New Hotels Under Construction
Hotel
Location
Bedrooms
Estimated

Completion Date

Novotel
Festac Town
400
2007
Sheraton Federal Palace
Victoria Island
140
2008
Golden Tulip
Apapa
75
2008
Radisson SAS
Victoria Island
170
2008
Four Points by Sheraton
Victoria Island
220
2008
Crowne Plaza
Ikeja (Airport)
220
2008
Southern Sun
Ikoyi
250
2009
Protea
Maryland
90
2009
Meridien
Ikoyi
370
2010
InterContinental
Victoria Island
360
2010
TOTAL
 
2.295
 
Trevor Ward
W Hospitality Group, Lagos
trevor.ward@w-hospitalitygroup.com
Each year we collect information from the major international and regional (African) hotels chain, to find out what they are doing in terms of signing new deals for the branding and management of new hotels in Africa.  At the beginning of 2013, the chains which contributed to our survey reported a total of 207 hotels in their development pipelines in Africa, with almost 40,000 rooms.  This includes only those binding deals which have been signed between a hotel chain and an owner, and is up almost one third on two years ago.  In a dynamic market, with an increasing number of players, new management and franchise opportunities appear every day, but these are the ones with full approval and which are more likely than not to proceed.
Table 1 shows the "Tale of Two Africas" – the distribution of the deals between North Africa and the rest of the continent.
TABLE 1

2013 Chain Hotel Development in Africa

Regional Summary

 
2013
2012*
2011*
 
Hotels
Rooms
Hotels
Rooms
Hotels
Rooms
North Africa
77
18,782
77
17,217
75
17,038
Sub-Saharan Africa
130
21,052
100
17,109
76
13,700
TOTAL
207
39,834
177
34,326
151
30,738
* In all the tables we have rebased previous years' data to include 2013 contributors only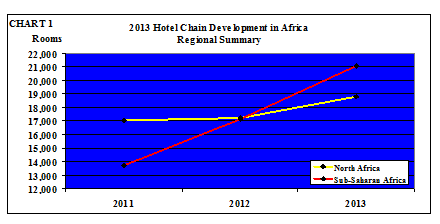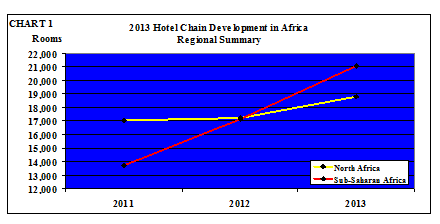 The pipeline in North Africa has experienced relatively little growth, for two reasons – several hotels in previous years' pipeline data opened in 2012 (Accor alone opened 8 hotels with 1,153 rooms in Algeria, Morocco and Tunisia), and the political turmoil in the region has had a negative effect on new investment and, therefore, new deals.
In North Africa, the development pipeline grew by 9 per cent in 2013.  In sub-Saharan Africa, however, the increase was a massive 23 per cent.  This compares to 4 per cent growth in Europe and 8.6 per cent growth in Asia Pacific, according to pipeline data produced by STR Global (although the growth in Africa is from a much lower base).
The top ten brands by number of hotels and rooms in their pipelines are shown in Table 2 and Chart 2.
TABLE 2

2013 Chain Hotel Development in Africa

Top 10 Brands by Number of Planned Hotels and Rooms

Rank by Hotels
Rank by Rooms
 
 
Change on 2012
Average Size
1=
Hilton
17
1
Hilton
5,400
68.4%
318
1=
Radisson Blu
17
2
Radisson Blu
4,191
11.5%
247
3
Novotel
12
3
Novotel
2,192
7.6%
183
4=
Ibis
11
4
Marriott
1,767
41.4%
196
4=
Golden Tulip
11
5
Park Inn
1,676
11.9%
168
6
Park Inn
10
6
Ibis
1,675
8.7%
152
7=
Marriott
9
7
Golden Tulip
1,608
88.7%
146
7=
Kempinski
6
8
Kempinski
1,481
8.0%
247
7=
easyHotel
6
9
Mövenpick
1,369
-37.3%
274
10
Mantis
6
10
InterContinental
1,296
-35.5%
324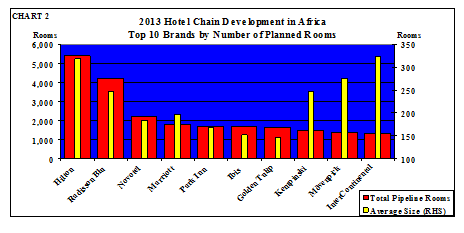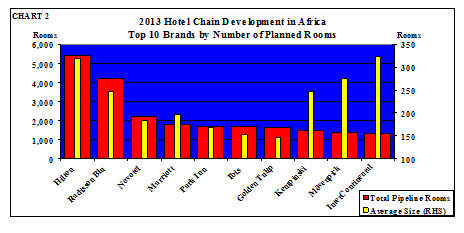 Table 2 and Chart 2 analyse the pipeline by brand.  The number one slot is occupied by the Hilton core brand on its own – the performance of Hilton Worldwide, and its pipeline in three brands (Hilton, Doubletree by Hilton and Hilton Garden Inn), is analysed in Table 4.
Two brands are first equal in terms of the number of hotels in the pipeline, but whilst this is an indication of how large the system footprint is set to grow, the number of rooms is a better
indication of future earnings, and Hilton outstrips Radisson Blu by almost 30 per cent on that measure, because of the larger average size of their planned hotels.
The above analysis is of brands – many of the hotel companies are multi-brand players, so it is relevant to look at it per group as well.  It is noticeable that the global chains are now entering the African market with more of their brands – Hyatt have signed their first Hyatt Place deal, Hilton are moving ahead with Hilton Garden Inn, and Louvre are bring Campanile and Première Classe to Africa.  This gives owners greater choice, whilst still receiving support from a major group.
Table 3 and Chart 3 show the pipelines by hotel chain.
TABLE 3

2013 Chain Hotel Development in Africa

Top 10 Chains by Number of Planned Hotels and Rooms

Rank by Hotels
Rank by Rooms
 
 
Change on 2012
Average Size
1
Accor
30
1
Hilton Worldwide
6,230
84%
271
2
Carlson Rezidor
28
2
Carlson Rezidor
5,947
11%
212
3
Hilton Worldwide
23
3
Accor
5,165
-14%
172
4
Marriott
22
4
Marriott
3,900
55%
177
5
Louvre
17
5
Starwood
2,514
17%
279
6
Starwood
9
6
IHG
2,413
-16%
302
7=
Best Western
8
7
Louvre
2,290
146%
135
7=
IHG
8
8
Kempinski
1,481
8%
247
7=
Lonrho
8
9
Mövenpick
1,369
-37%
274
10
Kempinski
6
10
Rotana
1,355
8%
271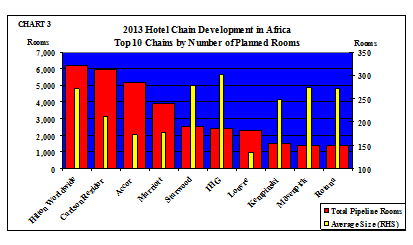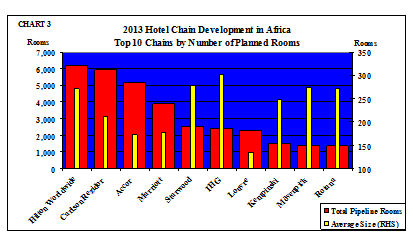 All the majors are there, dominated by Hilton Worldwide and Carlson Rezidor, both of which have invested heavily in establishing development offices in Africa.  Best Western enters the ranking with eight signed membership agreements and almost 800 rooms, of which all but one property is under construction.  Six new African Best Western hotels are due to open in 2013, taking the total to 14 hotels with over 1,500 rooms.
Where is all this activity taking place?  Of the total pipeline, 47 per cent is in the five countries of North Africa, and 53 per cent in the 49 countries of sub-Saharan Africa.  Table 4 shows the top ten countries.
All of the five North African countries feature in the top ten destinations for branded hotel developments, the majority of activity are located in Egypt and Morocco, where the tourism industries are most well-established.

TABLE 4

2013 Chain Hotel Development in Africa

Top 10 Countries by Number of Rooms

Hotels
Rooms
Average Size
1
Egypt
20
7,644
382
2
Nigeria
49
7,470
152
3
Morocco
30
5,178
173
4
Algeria
17
3,160
186
5
Kenya
11
1,469
134
6
Ghana
8
1,441
180
7
Tunisia
6
1,441
240
8
Libya
4
1,359
340
9
South Africa
8
1,320
165
10
Gabon
7
1,128
161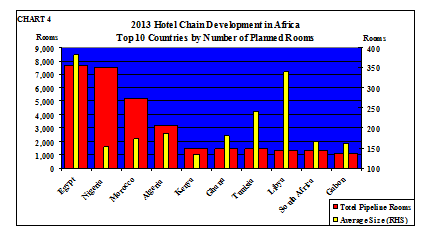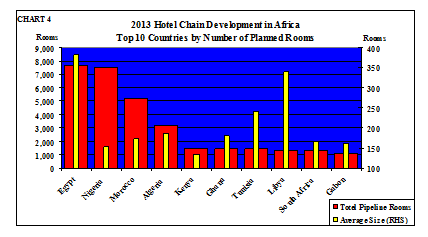 Nigeria, Africa's largest country by population, the power house of West Africa – and tipped to overtake South Africa this decade as the largest economy on the continent - has almost 7,500 rooms under contract, up 10 per cent on last year's figure, with at least two more deals signed since the beginning of 2013 (not included in the above data), and thousands more in the "nearly" category.
Note that hotels being planned or developed in North Africa are typically larger than those in sub-Saharan Africa, particularly in Egypt.  Nigeria may have the largest pipeline in sub-Saharan Africa, but the average size of hotel there is relatively small.  Conversely, however,
one of the largest hotels in West Africa, the InterContinental Lagos with 358 rooms, is due to open in 2013.
New to the Top Ten in 2013 are Kenya and Gabon.  Nairobi is the focus of attention in Kenya, with seven companies entering the market there – Best Western, Country Lodge, Accor (Novotel and Ibis), Carlson Rezidor (Radisson Blu and Park Inn), Dusit, easyHotel and Kempinski.  With almost 1,500 rooms between them, of which almost 700 are due to open in 2013, is an oversupply situation looming?
On average, the global hotel brands have less than 2 per cent of their total rooms in sub-Saharan Africa, and with rapid expansion of their existing and upcoming hotels in China, India and other developing and developed countries, this percentage could drop further.  But the rewards in Africa are high, and with economic growth rates in many countries of 7 per cent and above, it is regarded by many as the most profitable place to do business – just slower than "normal".
Many projects in sub-Saharan Africa are delayed from their original opening date, for a variety of reasons.  But we see that improving, as more sophisticated investors, including specialist funds, enter the market, capable of running a successful development project.  We have identified five hotel funds currently active in Africa, with others being established, seeking acquisition and new-build opportunities.  In addition, several international construction companies, from Europe, the Middle East and elsewhere, are eying the market, bringing construction finance with them.
Since we first started the hotel pipeline survey in 2009, we have seen the number of rooms increase from 30,000 rooms to 40,000 rooms, and in the intervening four years, the hotel chains have opened an estimated 20,000 rooms in Africa.
Africa is firmly on the agenda!
*****************
Notes on the sample:
We sent questionnaires to 42 international and regional hotel chains, of which 29 submitted data.  In addition, three international chains provided a zero-deal return, and two South-Africa based chains declined to participate this year (although they had participated in the past).  We polled only those international chains with an interest in being in Africa, or Africa-based chains with operations and/or deals outside their home country.
This report summarises the results of our analysis.  Detailed information on all the deals signed by the chains are provided only to the contributors.
Trevor Ward
W Hospitality Group, Lagos
trevor.ward@w-hospitalitygroup.com
Assessing an investment in any business means looking at supply and demand – who wants to buy the product or service, now and in the future, and who is playing in that market as suppliers of that product or service, today as well as tomorrow.
Everyone seemed to have an opinion about how Uber wouldn't work in Africa back in 2012. Four years down the line, the Uber bug has spread to 11 cities in Egypt, Kenya, Nigeria, Morocco and South Africa.