We recently launched our 6th annual survey of what the international hotel chains are doing in Africa – their pipelines of new deals, hotels to be opened over the next 5 years.  We came up with a total of 215 hotels, with almost 40,000 rooms, an increase of 10 per cent on last year.
For the first time, the number of rooms in the pipeline in sub-Saharan Africa (SSA) far exceeded those in North Africa – 23,283 in SSA vs 16,449 in North Africa. On a per country basis, North Africa is still way ahead of SSA, but its share is declining, as the chains focus more on the fertile grounds of the 49 countries in SSA.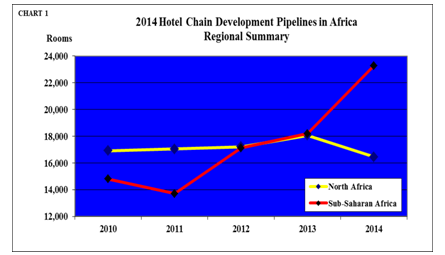 And in SSA, it is West Africa that dominates: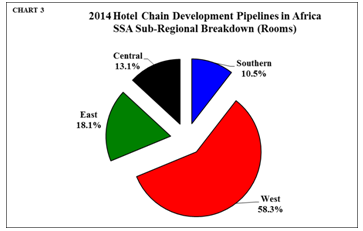 Interesting that southern Africa, with mature tourism industries, and the destination of a larger proportion of leisure travellers, has the smallest share in SSA, with no activity at all in countries such as Malawi, Botswana and Zimbabwe.
In West Africa, a total of 14 countries are seeing development activity from the chains including, for the first time in many years, Liberia, Togo and Niger.  A lot of that is being driven by two African chains, Onomo and Mangalis.  The latter emerged on the scene just last year, and already has a confirmed pipeline of 15 hotels and 2,200 rooms, a larger pipeline than international giants such as IHG and Accor!
As in previous years, Nigeria has the largest pipeline of all African countries, 40 hotels with 6,600 rooms.  Not surprising, with (now) the largest economy on the continent, the largest population and the huge potential for growth.  Everyone's looking for a presence in Lagos, and many are also looking at Abuja, with one or two, such as Hilton, Best Western and Carlson Rezidor going into the secondary cities.
Ghana and Senegal also appear in the top 10 countries, but on a much smaller scale than Nigeria, with approximately 1,000 rooms apiece.
Elsewhere in Africa, South Sudan makes its debut in the pipeline data with two hotels totalling 435 rooms between them, including one by Sheraton, both planned for 2017 openings.  There are 10 African countries which have no existing branded supply; however, this list of "hotel deserts" is shrinking fast, as seven of them – Burundi, DRC, Liberia, Mauritania, Niger, Sierra Leone and South Sudan – now have hotels in the 2014 development pipeline.  Burundi, DRC and Mauritania all have hotels that are scheduled to open in 2014, and in Sierra Leone, Carlson Rezidor have very recently opened the Radisson Blu, the first internationally-branded hotel in the country.
The above data relate to deals that have been signed – in many cases they represent only pieces of paper!  Looking at what's happening on ground paints a different picture.  In North Africa, 75% of the planned rooms are actually under construction, whilst in SSA it is only 56%, and this last statistic includes several hotels on which work started and then stopped, for one reason or another.  And whilst Nigeria has the largest signed pipeline in Africa, the country sinks to 4the position in the rankings of rooms under construction, with just 37% on site, compared to over 80% in Egypt, Algeria and Libya.
This reflects both the pace of the growth in the pipeline in Nigeria, as well as the slow pace of getting projects started in that country.  Currently, 62 per cent of the hotel rooms reported to open in 2015 are not yet on site (and thus almost certain not to meet that schedule) and only one of the projects planned to open in subsequent years (the 150-room Marriott Lagos) is actively on site.
The renewed interest in Cote d'Ivoire (4 hotels, 772 rooms, all in Abidjan and all under construction) in recent years is as a result of the return to political stability, after many years of civil war, which is encouraging economic growth in the country. The planned return of the African Development Bank to Abidjan from its temporary base in Tunis will also boost the demand for hotel accommodation in the city.
New countries, new brands, and a clear focus on sub-Saharan Africa.  Those are the main stories in the 2014 hotel chain development pipeline report.  More hotel chains are opening development offices in Africa, or in some cases in the Middle East focused on Africa, and generally growing their resource base, in order to take advantage of the strong economies on the continent and the hotel deals that arise as a result.  Africa has never been an easy place to do business, and is likely to remain more challenging than Europe, or even China.  But most of the continent is so lacking in quality hotel rooms, not just in the capitals but also in the secondary cities, that it is our belief that the pipelines in sub-Saharan Africa will continue to grow, and that even more international players will enter the market.
The full report can be downloaded from www.w-hospitalitygroup.com
Trevor Ward
W Hospitality Group, Lagos           
trevor.ward@w-hospitalitygroup.com