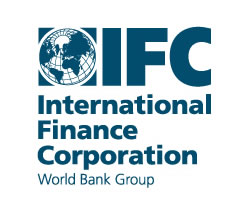 Our client, the International Finance Corporation (IFC), is part of the World Bank Group. IFC have long been involved with the hotel and tourism industry in developing countries, both as an investor/lender, and as an advisor, as part of their Investment Climate and Privatisation activities. The hotel and tourism industry is recognised as a major creator of jobs, in all sectors, with a high multiplier effect, and with particular impact on micro, small and medium-sized enterprises.
THE ASSIGNMENT
W Hospitality Group was asked to carry out research and to prepare a detailed report on the opportunities for hotel investment in four West and Central African countries, namely Chad, Guinea (Conakry), Liberia and Togo. The objective was to determine whether the IFC should undertake an Investment Generation progra
mme in one or more of the countries, within which they would seek and attract international private sector investors to the hotel industry.
OUR WORK
We visited each country, and held a series of meetings with representatives of public and private sector organisations in the hotel and tourism industry – Ministries, hotel owners, tourism boards, banks and others. We also spoke with potential investors, inside and outside each country, and conducted a survey of hotel operators and investors concerning their perception of each country, and their future intentions there.
THE OUTCOME
After a four month research and analysis programme, our report was submitted to and accepted by the IFC. They are now proposing Investment Generation programmes to two of the four countries surveyed, based on our recommendations.
Contact us today for more information about how we can assist you.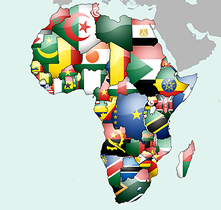 W Hospitality Group has worked on hundreds of projects across Africa, with organisations such as Beneficial Life in Cameroon, ENYI in Ethiopia, GLAHCO in Ghana, MITC in Malawi and Opulent Hotels in Tanzania and Zanzibar, as well as Silverbird, Oceanview, Churchgate, Cosmopolitan, Imani and others in Nigeria.
Contact us today for more information about how we can assist you.
How to maximise the returns from your hotel investment
Hotels are often seen as a necessary first step to attracting international investment into an under-developed area, as without a decent base to stay International Investors are less likely to come to the country to discuss other business opportunities. In recent years there has been a strong influx of new hotel developments across Africa as inward investment in property hospitality has grown.
The fundamental question is how to ensure that any new hotel being built maximises its potential and adequately rewards the investors.
Ensure the basics are right
Ideally when first looking at a project you will need to be able to ensure the basics are right.  They include:
The right product
Is it the right product in the right place? There is strong demand for luxury resorts in certain parts of Africa, whilst in other areas mid-market business or budget hotels are the optimum type of hotel operation. Creating the right property (including quality, size and ancillary facilities) is one of the most important steps to ensuring you can maximise your investment returns.
I know of one case where W Hospitality Group were asked to advise on a new hotel development in West Africa and, because of the nature of the market, they advised incorporating a high proportion of suites into the branded hotel that usually had no suites. That hotel is trading extremely well, much better than it would otherwise, because this advice was received at an early enough stage to be incorporated into the design.
I cannot be explicit enough on this – there is no substitute for good professional advice early on. The cost of an initial feasibility study is NEVER wasted.
The right brand
Appointing an International Operator to manage a hotel can have a significant impact on the returns you make from your investment.  In the initial development phase this decision will affect an investor's ability to secure funding and also the likely cost of securing it.
Whilst the hotel is trading international operators can usually improve performance, increasing revenue production, whilst also using their size to generate cost savings thereby
improving the owner's return. In addition when the hotel is finally sold it can usually attract a higher multiple of earnings if it is internationally branded (and therefore a higher price).
However, if it is "the wrong brand", or in the "wrong structure", it could have a negative impact on operational earnings potential and the capital value of the asset.
Right structure
If a brand is considered the best option for a hotel then consideration must be made whether to structure the partnership through a lease, a management agreement or through a franchise agreement.  The ideal choice will depend upon who the investor is, their long term strategy and the prevailing market conditions.
As the devil is definitely in the detail of such arrangements, It is essential that professional advice is taken at this stage.  If care is not taken in firstly choosing the most appropriate structure and then over every clause contained in any agreement this could have a direct impact on both the income earned, and on the price achieved on sale.
Prepare at the outset for the exit
A wise investor plans for the time to sell the hotel from the very beginning. If you know what you want to do in the first instance you can ensure that is built into your planning, as long term holds have different strategies than medium term holds or early disposals.
Ensure trading is optimised throughout the holding period
However long you intend to own the hotel it is important that trading should be optimised. Note the use of the word "optimised"  – it is deliberately not "maximised", though of course in many instances these words will be effectively interchangeable. However in certain circumstances maximisation of income may be detrimental to long term earnings and/or capital value.
Assuming that the hotel is not being operated by the owner then it usually proves prudent to employ an "asset manager" to liaise with the operating company, to ensure the owner's interests are upper most in the manager's thoughts at all times. The asset manager will review performance, budgets, marketing plans, maintenance schedules and capital investment programs to ensure everything is being done to enhance the owner's returns.
It is important not allow basic repairs and maintenance to be neglected. If the property is not kept in good repair it has an impact on both trading and capital value, and that impact is always greater than the short term savings generated by under-investing in the fabric of the hotel.
Ensure a smooth exit
When disposing of the hotel, an experienced specialist hotel agent will be best placed to secure a quicker sale at the best possible price. The agent must be competent in the specific location, with the type of property and with the type of structure being sold. Generally the best agents will only work on a sole agency basis, to ensure they can fully control the disposal process, thereby enhancing the chances of a successful transaction.
It will also be important that the property is marketed to the correct people. There is no point, for example, in advertising a property to International buyers when non-locals cannot own property in that country. In addition certain types of properties and structures attract certain types of buyers.
There are times when it is best to speak informally to one or two buyers in an off-market scenario to best complete a sale. Your agent will advise on this, on a case by case basis.
There is one final point to mention. If advising on hotel transactions over the last fifteen years has taught me nothing else, it is essential that all the due diligence paperwork is collated ahead of going to market. Nothing stops a very keen potential buyer having an interest in a possible transaction than having to wait for the paperwork to review. It is imperative to the success of a transaction to be able to follow up such interest immediately to build the momentum in the transaction, so it can be pushed through to a successful conclusion.
Conclusions
In summary, if you are to maximise the returns you receive from your hotel investment, you need to ensure you get the basics right in the first place, ensure that trading is optimised throughout the holding period, and ensure that the best sales price is attained by making the exit as smooth and as professional as possible.
Trevor Ward
W Hospitality Group, Lagos
trevor.ward@w-hospitalitygroup.com
It is a universal truth that cities ebb and flow, enjoying good times and bad times.  Look at Johannesburg, where the CBD degenerated into a no-go zone, having once been a proud, thriving place.  Look also at Lagos, where the original city, Lagos Island has, behind the frontline of skyscrapers housing mostly banks, become a huge street market.
But look again at Johannesburg.  The CBD is not what it was 10 years ago, with massive regeneration underway.  Look also at the Hatfield area of Pretoria, where The Fields project has arrested the urban decay that was threatening to escalate, and is now in its second phase.
Both the Johannesburg CBD and Hatfield projects include hotels, and the chicken-and-egg question has been asked – can a hotel development be the catalyst of urban regeneration, or does the process have to start first, to create an environment in which the hotel will prosper?
The answer, of course, is never a simple yes or no, but on balance, I believe that a hotel cannot be developed in isolation, in the hope that others will follow.  The reason is, I believe, that urban renewal needs something of a "big bang" to get things going, and that needs public sector involvement and political will.  Sometimes, but not always, government funding is also required.
Urban renewal is not only about renovating or redeveloping run-down areas and buildings, it is also about creating a new community.  Most areas which have suffered from urban degradation have also experienced a collapse of the social structure, as the retail sector moves to the suburbs, residential units are abandoned, and the office tenants move to safer climes.
To create a community, you need social infrastructure to come in at around the same time, and it is noticeable that most urban regeneration projects incorporate mixed-use developments.  The first phase of The Fields project in Hatfield comprised residential apartments, shopping and prime-grade office space, as well as a Protea Hotel.  The second phase comprises more office space, and a second hotel, the 184 room City Lodge.
Each component feeds off each other, with the sum greater than the parts.  Looking specifically at the hotel components, it is highly doubtful that they could survive on their own, without the demand generated by the office users for accommodation
during the week, the local residents for the food and beverage facilities, and the visiting sports teams and other leisure groups at weekends.
Down in Johannesburg CBD, one of the first projects to get going was the city's main bus terminal, Gandhi Square.  But not on its own.  Transportation is vital if a city centre is to become alive again, but it is also the activity around the transport nodes that are important – Gandhi Square is also the location of multiple shops and restaurants.  Dubbed a "central improvement district" by Gerald Olitzki, the man credited with the Gandhi Square project, it has been a catalyst to show what can be done, that the streets can indeed be reclaimed, and that it is safe for other developers to come back into the centre.
One step at a time.  With the transportation sorted out, the offices started to come back.  They, and the bus station, created demand for shops and restaurants, which made the area a more attractive place to live, and residential apartments were developed.
Redevelopment seems not to be confined to just one area, but has a ripple effect – on the southern fringe of the Johannesburg CBD is Stimela Square, where another mixed-use project is underway, comprising office, retail and a hotel, arranged around a city garden square, once again embracing the concept of community, not just commercial development.
In Braamfontein, the opening of the Gautrain Station has itself been the catalyst for the Braampark development, already the location of various prestigious companies, as well as various government agencies and parastatals such as the South African Human Rights Commission – a strategy for government support to regeneration without the need for taxpayer support.  Where offices go, hotels will always follow.
I mentioned Lagos Island as requiring regeneration, particularly as, like the Johannesburg CBD of old, it is completely dead at night.  There are no hotels in Lagos Island at all, and only low income housing and informal retailers.  Sadly, there don't appear to be either the entrepreneurs nor the political will to do much about the place.  I have always believed that a hotel would do really well here, at a midscale level catering to office workers and their visitors, with an assuredly-thriving food and beverage operation, particularly in the early evening
One hotelier is already taking the plunge, not yet in Lagos (although they have definite plans to be there), but in central Johannesburg.  Lonrho have announced that the first easyHotel in Africa will be developed on the corner of Rissik Street and Pritchard Street.  Ewan Cameron, CEO of Lonrho Hotels commented "we see the easyHotel Johannesburg as part of the regeneration of this important area, benefiting from but also contributing to the success of other developers in reclaiming the area".  Would he have been a pioneer, and gone in there without the other office, retail and
other developments there?  "We need the critical mass of other businesses, and of residents, to make a hotel a success".
In the US, urban regeneration has often been driven by public sector spending, on such landmark development as sports stadia and convention centres.  Hotels and other businesses follow, because these facilities are intended to be catalysts for other, private sector developments, and the jobs that they bring.  But that's in the US, where public funds are available (or at least they used to be), and where the private sector had the capacity to contribute to the development of these mega-projects, through the likes of bed taxes and other levies (that these developments often bankrupted the local governments is another story!).
In Africa, government rarely has the resources to undertake the superstructure of urban regeneration itself, and can contribute the most through the provision of transport infrastructure, along the lines of what Lagos State is doing with its light railway schemes, concessionary deals on land, and tax breaks.  In Johannesburg, private sector developers who constructed new buildings in designated zones had a tax break of 20 per cent in the first year, followed by 5 per cent for 16 years.  In recognition that there is considerable value in keeping some old buildings, companies undertaking renovation had a 20 per cent, 5 year tax break.  Given that without private sector intervention, the city centres would almost certainly remain unwanted and unloved, the cost to the government is zero, but there are the benefits of job creation, a reduction in crime and social disorder and, of course, happier voters!
Down there in downtown Johannesburg where, without a doubt, angels feared to tread for many years, it is now possible to take a guided walking tour of the area.  In the beginning, tourists used to ask "is it safe to do this".  Now they say "show us what's new"!  Increasingly, that's the new hotels that are bringing back the life, and improving people's lives.
Trevor Ward
W Hospitality Group, Lagos
trevor.ward@w-hospitalitygroup.com
The City's Airport
Recommended Business Hotels
General impressions or tips with regards to travelling on business in the city
Abuja
It's difficult to know whether this airport is finished or not!  The arrangements for domestic arrivals are bizarre ("use the little door round the side there"), and then trek through the international hall to the departure area.  Domestic departures have two places to go, depending on which airline you're on.

I have never travelled international in or to Abuja.

If you want to see and be seen, the Transcorp Hilton is a must – all the worked passes through there at some time or other.   The Sheraton is old but friendly, with some great restaurants.  The three small Protea hotels are more cosy than their bigger cousins, and the Hawthorn Suites offers an apartment-style product.
Thee road network is really good, and there always seems to be anew highway under construction in Abuja!  The road from the airport to town is undergoing a major rebuild, and delays are possible, particularly on the way in early in the morning, due to a security check.

There are very few restaurants and bars outside of the hotels, and both the Sheraton and the Hilton have nightclubs and casinos.

There are some good quality green taxis plying the streets, and you might even see the odd London cab!
Accra
The international airport is working well, although immigration can be a real bottleneck at peak periods.

The duty free shop is good value, but there's only the one.

There's a wide range of hotels to choose from in Accra, from the beachside Labadi Beach and La Palm, to the Holiday Inn at the airport.  The newest place in town is the Mövenpick, which will be challenged for market supremacy very soon by the Kempinski.
Traffic congestion in Accra is worse at times than Lagos (sic!).  the arrival of Big Oil has seen a boom in activity, and that means more cars, but not more roads.  So beware getting caught downtown with only a short time to get to the airport.

Captain Hooks restaurant has good fish.

Addis Ababa
Bole airport is a major transit point for the region, and seems to be coping well with the pressure.  Connectivity with ET is normally quite good, but sometimes needs an overnight stop.  The duty free shops are not bad.
The best hotel in town is the Sheraton, and is the place to see and be seen.  The Hilton has seen better days, but has a good bar where the expatriates hang out.  Radisson Blu have recently opened, close to the Hilton, but the facilities are quire limited.
Dar es Salaam
Dar airport is pretty crummy, although the duty free shops are good.  The whole building needs renovation, and it can also win the prize for "ugliest airport terminal"!
Big selection of hotels to choose from, in the CBD and out on the beaches of the peninsula.  Seacliff is the poshest, but also the furthest from the CBD.  The Hyatt is the grandest, and has a good Chinese restaurant.  The Best Western is cosy, with a great pool and sea view.
The best restaurants are on the peninsula.  There is quite a variety up at the Seacliff Hotel.

Lagos
Lagos airport is really horrible, and not for the fainthearted.  The treatment of arriving international passengers is the worst I have experienced in Africa – and as I live here, I experience it very often!  If you can, organise for a protocol officer to escort you through – but you will still have to wait ages for your luggage.  Yellow fever vaccination certificates will be demanded only from white-skinned travellers.
There are several hotels to choose from these days, but the best hotels in town are the Proteas (six of them!), the Sheraton, the Southern Sun, the Radisson Blu and the Four Points.  Don't be put off by the high published rates – there is always a deal to be done.
Lagos is not as near as daunting as people think.  Sure, you have to be plenty street-wise, but with sensible precautions you can have a good time, and without it costing an arm and a leg.  Check out Pat's Bar in Victoria island, good priced drinks and food, plenty of TVs to watch the game(s), and live entertainment some nights.
Luanda
What used to be a horrendous experience is now a modern, well-operated airport, although the check-in is a bit chaotic at peak times (where isn't it?!).  Allow plenty of time, as the lines can move pretty slowly.  The arrival experience is fine, immigration is very efficient, and you will be asked for a yellow fever certificate.
The two new hotels in town are the Baia and the Epic Sana, both modern and well managed.  The Continental Hotel is unpretentious and very good value for money.  Avoid the Presidente like the plague, it is terrible.
Luanda is extremely expensive, but there are signs that the prices are on the way down, as competition increases, and more locally-produced food becomes available.  The Ilha is the place to be in the evenings, or go there at lunchtimes for some good meal deals.
Nairobi
Nairobi airport is old and creaky, but seems to work OK.  It is way overcrowded, and the departure hall always seem to be strewn with stranded passengers from exotic places!  The duty free is not bad.
There are a lot of hotels to choose from.  In the CBD, the InterContinental and the Regency are the two main ones, and the new Crowne Plaza on Upper Hill is getting good review.
Central Nairobi has a reputation for being dangerous, but I have never had a problem there – but be streetwise all the same. The traffic in town is appalling, so leave plenty of time to get to the airport when leaving.

Windhoek
The international airport in Windhoek is small and really quite charming!  The little departure lounge is right next to the apron, so you know what's going on.
The two main hotels in the centre of town are the Hilton and the Kalahari Sands.  The Hilton is clean and modern, but needs to shape up on its service standards.  The Kalahari Sands is located in the middle of a shopping mall, and is a little shabby.
Not the most dynamic of cities, Windhoek can be a bit claustrophobic after a few days.  It is fund to walk around during the say, but don't expect anything to be open after 5pm, or on a Sunday – the German influence!  Joe's Beer House is worth a visit, if only for the atmosphere – although the beer and food get good reviews.
Trevor Ward
W Hospitality Group, Lagos
trevor.ward@w-hospitalitygroup.com
Rather curious, methinks, that the country with the largest hotel industry in Africa, and with the largest number of home-grown brands, hasn't got a larger presence of those brands elsewhere in sub-Saharan Africa.
I'm talking, of course, about South Africa.  Travellers who live there, or who visit, will be familiar with a long list of local hotel chains, such as Protea, City Lodge, Tsogo Sun, Peermont, Sun International and Three Cities.  These and others are long-established names "down south", and most have a significant presence in the industry there – at latest count, Protea have over 80 hotels in South Africa (including those in their African Pride collection), and Tsogo Sun almost 60.
Now, these chains have made pioneering inroads into southern Africa.  Tsogo Sun have a presence in Tanzania, Mozambique and Zambia, Sun International are in Lesotho, Zambia, Swaziland, Botswana and Namibia – and so on.  But "the experts" say that the countries to watch in sub-Saharan Africa, in terms of economic growth, both in percentage terms and absolute dollars, are Angola, Nigeria, Ghana, Ethiopia, Kenya and Tanzania.  Most readers will have a view on whether "those experts" are right, and some will want to add their own "one to watch".  With the exception of Protea, the presence of the South African chains in those countries is very light.
The South African chains are not keeping up with the international chains, both those long established like Hilton and Le Meridien, and Johnny-come-lately's such as Kempinski and Carlson Rezidor, when it comes to their expansion.  In our pipeline survey conducted at the beginning of 2012, not one of the  South African chains made it into the top 10 in terms of new rooms in the development pipeline.  Protea were almost there, but because their hotels tend to be small in size, they were elbowed out by the likes of Kempinski and Rotana.
Before one of the Protea guys gets up and shouts at me, they are the one chain that has a substantial presence outside of South Africa, with 11 hotels in Nigeria alone, the most of any international or regional hotel chain, and with several in the development pipeline.  Looking at Nigeria, the largest market outside South Africa, Southern Sun and Sun International have just one hotel apiece, City Lodge is nowhere to be seen (but good to see that they have finally "travelled", with hotels in Kenya and Botswana).
Graham Wood of Tsogo Sun explained recently at the African Hotel Investment Forum in Nairobi that the reason for this "light footprint" was generally because there had been an almost single-minded historic focus on their domestic market – and look where that got them, with the serious supply overhang from 2010 – and specifically for Tsogo Sun because they have historically had an "asset-heavy" model – i.e. a policy of owning the hotels that they manage.  And that capital requirement has restricted their expansion.
That's fine, but the fact is that the likes of Hilton, Carlson Rezidor and Starwood are claiming sub-Saharan Africa as their own, and are enjoying first mover advantage in many markets.  The Radisson Blu hotel in downtown Lagos is the best performer in that market.  Starwood have 5 hotels in Nigeria with, between them, more rooms than Tsogo Sun has in the whole of sub-Saharan Africa excluding South Africa, including one in Nigeria.  The non-South African pipeline of all the South African hotel chains is equivalent to that of one company, Marriott, which is a relative newcomer to Africa.  And there is not a single South African-branded hotel in Francophone Africa.
Curious, huh?
Trevor Ward
W Hospitality Group, Lagos           
trevor.ward@w-hospitalitygroup.com
An Update on the Lagos Hotel Market
Over the years, many observers and players have warned of oversupply in the Lagos hotel market.  Ten years ago there was very little to choose from, but in 2003 there was a surge of interest in developing new hotels, attracted by the high occupancies and room rates of the existing players, and the large number of hotels being planned was beginning to worry those observers.
In developed markets, it is very difficult to conceive of growth in the supply of or demand for hotels in double digit percentages year on year, and this was the paradigm that those observers were working within. How can demand possibly grow enough to cope with supply that is set to double in the next five years?
Figure 1 shows the evolution of supply in Lagos between 2003 and 2011, capturing those hotels in the city with a minimum quoted rate of US$100 per night.
Figure 1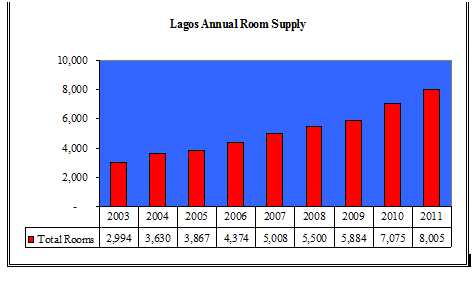 In fact, it took six years for the supply to double.  Notable openings included several by South African chains – Protea, Southern Sun, Sun International and Legacy.
Lagos Hotel Industry

New Supply

Hotel
Rooms
Opening Year
Federal Palace (Sun International)
150
2008
Protea Ikeja
92
2008
Southern Sun
195
2009
Protea Westwood
56
2009
Four Points by Sheraton
234
2010
Best Western, VI
112
2010
Best Western, Ikeja
142
2010
Ibis Lagos MMIA
204
2011
Radisson Blu
170
2011
Legacy Wheatbaker
67
2011
That's just over 1,400 new rooms, and at the same time there were several small, unbranded hotels entering the market.  So by the end of 2011, we had 5,000 new rooms, an increase of 167 per cent on the 2003 position.
Looking forward, there are some 2,900 new rooms in branded hotels, with contracts signed for management.  These hotels include second hotels for Ibis and Four Points, and the entry (and in two cases re-entry) of brands such as African Pride, Le Meridien, Holiday Inn, Mantis and InterContinental to the market.  One of the most visible of these is the 360-room InterContinental, a 25-storey building in the heart of Victoria Island.
Oversupply?  I don't believe so.  In the heady days of 2008, the average occupancy in Lagos was over 80 per cent, and some hotels were achieving over 90 per cent.  That is exceptional performance, and hotel owners were enjoying very high levels of profitability.  In 2012, the average occupancy is down at about 60 per cent – but within that sample you have new hotels which are still building their business, and which are achieving below 50 per cent, and those established, branded hotels which are achieving 75 per cent and above.  That is not a situation of oversupply.
The fact is that, whilst the future hotels can be identified, their completion is by no means certain, and it is a fact that no major hotel development has been completed on time, the delay being, in some cases, measured in years – the Radisson Blu broke ground in late-2003, and opened in mid-2011.
The reasons for these delays are not always clear, but contributing factors include:
lack of proper planning from the inception of the project, with no detailed budget for the whole financial requirement;
lack of focus from the developer on the project;
under-estimation of the likely total cost of the hotel, leading to a shortage of funds down the line;
lack of a professional project manager on the development team;
late engagement of the management company, leading to delays whilst changes are made to the construction on ground;
lack of available capital – many projects commence on site with only a portion of the total funding in place.
Of the 2,900 rooms in the future pipeline, 1,500 have yet to start work on site, and 566 are on-site, but work has stalled for some time.  So that means that only 834 are actively under construction.  With some unbranded hotels also underway, that means that only around 1,000 new rooms are "certain" to enter the market – but the InterContinental has been delayed several times, and that could happen to other projects as well.
Not only are new hotels delayed, and yet to start construction, but we have witnessed two hotel projects, both at the airport in Ikeja, apparently cancelled by the Federal Government for non-performance by the developer.  Together these hotels were supposed to have around 700 rooms and suites, so the existing hotels in Ikeja can continue enjoying their sellers' market for some time.
What does this mean for existing and prospective investors in the Lagos hotel industry?
Lagos is Nigeria's most economically important and prosperous city, containing much of the nation's wealth and economic activity, fuelled by one of the largest seaports in Africa.  The commercial, financial and business nerve centres of Nigeria are located in Lagos, where most of the country's largest banks and financial institutions are located, including the Nigerian Stock Exchange.  The State hosts 60 per cent of the country's total industrial investments and foreign trade while also attracting 65 per cent of Nigeria's commercial activities.  It also accounts for more than 40 per cent of all labour emoluments paid in the country, and has 45 per cent of Nigeria's skilled labour force.
It is estimated that Lagos State contributes more than 20 per cent of the national GDP, and a recent estimate placed the State's 2011 GDP at US$50 billion, the fifth largest in Africa and the largest in West Africa.  GDP growth in the country as a whole is estimated to be between 7 and 8 per cent, which means that growth in Lagos State is likely to exceed 10 per cent annually.
Growth in a diversified economy means greater demand for hotel accommodation, often at the same rate as GDP growth – a direct correlation.  Whilst there is high cost
inflation for hotel owners, room rates are typically pegged to the US dollar, providing something of a hedge against inflation.  And historic profits have been at very high levels – operating profits exceeding 60 per cent of revenue in many cases, compared to 30 to 40 per cent in Europe and in South Africa.  Reducing profits may not be welcomed, but will not represent a train-smash for appropriately-geared operations.
As for new entrants to the market, there is still plenty of room, in my opinion.  I do not see oversupply, except perhaps in the upper upscale market (if, and only if, all the projects go ahead, which seems unlikely) – that sector is probably full for now, but there is huge scope in the branded midscale and budget sectors, where operating costs are that much lower.
It is a difficult market to operate in, but Lagos is improving, and there is a better understanding today of how to develop a hotel than there was back in 2003.  In particular, we are seeing the introduction of professional consultants, both local and from abroad, to the project teams, so that the causes for delay, and in some cases failure, can be avoided in the future.
Trevor Ward
W Hospitality Group, Lagos
trevor.ward@w-hospitalitygroup.com
Ever complained about Lagos hotel prices?  A lot of people do!  A standard room is going to cost you upwards of US$500 per night at the city's leading hotels.  Let's be honest, none of these hotels can be said to be deluxe, and problems encountered by guests are frequent, ranging from power outages to water shortages and communication problems.
So why the "high" prices?
I'm currently working on a client's proposed new hotel project in Lagos.  It's a basic "box", a simple design, 120 rooms, restaurant, bar, a few meeting rooms, a gym, and that's about it – a classic, upper midmarket product.
This hotel is going to cost DOUBLE what it would cost to build in South Africa.  Because of: import duties, transport costs, contractor margins, inefficiencies, the weather, unnecessary stoppages on site due to bureaucratic interference, etc etc.  And because a hotel in Lagos, and anywhere else in Nigeria, needs to be entirely self-sufficient in power (three generators, with extremely expensive control panels) water (at least two boreholes, with water treatment plants) and waste (a dedicated sewage plant).
And generators are horrible things – they sit there drinking diesel, eating batteries, and funding the lavish life style of the various engineers who "mend" and "service" them.  They blow your light bulbs, destroy your DVD players, and generally wreak havoc.  Oh yes, and they are an essential piece of equipment to run a hotel.  A hotelier friend recently complained that his energy costs were 18 per cent of revenue.  Ouch.  A London hotelier is screaming when it goes above 4 per cent.
So you see the problem?  Very high build costs, and an environment which contributes to high operating costs as well.  Those are two of the things which drive high hotel prices.  The third is supply and demand.  If you are still prepared to pay those prices – and what choice do you have? – to do business in the most dynamic economy in Africa, and one of the top three or four in the world, no hotelier is going to say no to your money.
Next time you hand over US$500 for a "standard" room, it may not be any more palatable, but perhaps you can spare a thought for the poor old hotelier, filling up his generator's diesel tank and calling the engineer for yet another replacement part.
Trevor Ward
W Hospitality Group, Lagos            
trevor.ward@w-hospitalitygroup.com
I commented last month about the high prices in Lagos hotels, and the reasons for that – high development costs, high operating costs, and so on.  Maybe you took pity on the poor hotel owners and managers?  Well, despite all those issues, hotels in Africa can be highly profitable at the operational level, partly because other costs such as payroll are, in many cities, low compared to the rates charge, and because of high occupancies.
If that is the case, why aren't more people building more hotels to take advantage of this "golden goose"?
Well, you see, because hotels are expensive pieces of kit, with high up front capital costs, they take some years to repay the investors their money.  The hotel industry is competing for that money with other sectors, such as commercial real estate and housing, which may not be so attractive in the long-term, but return capital much quicker, either through sales or rentals.  And African investors, generally (never, ever generalise about Africa, but here goes!) are looking for shorter-term returns than the typical 7 to 10 years of a hotel – in trading, government contracts, oil and gas trading, etc.
Compound that with the high interest rates and short repayment terms quoted by local banks, the difficulties associated with a lack of professional expertise and experience in the development teams, the climate, bureaucracy and corruption, and it's really tough to get new projects off the ground.
But they are happening – a survey we carried out at the beginning of 2012 shows that the regional and international hotel chains have signed contracts to manage over 38,000 new rooms in 208 hotels in Africa, up from 31,600 rooms in 159 hotels the year before.  Of these new rooms, 55 per cent are under construction, meaning that in the next three to four years we can expect in excess of 20,000 new rooms to open.
So far, so good, but do the arithmetic – that pipeline is in 35 countries (which means that there are 19 countries on the continent with nothing happening!), a measly 571 per country!  It's just not enough!
Trevor Ward
W Hospitality Group, Lagos           
trevor.ward@w-hospitalitygroup.com